Blood Brothers
Willy Russell
Theatre Royal, Newcastle, and touring
(2009)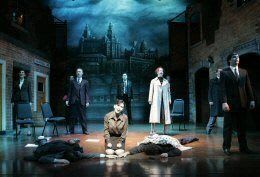 By its sell-out run and public demand for an extra show, Willy Russell's Blood Brothers has hit the big time at Newcastle's Theatre Royal. The audience last night were buzzing with anticipation; many I can imagine were fans of the show and others lucky enough to see it for the first time. With the theatre filled to its capacity, the audience were deafening but when the overture of this famous and much-loved musical kicked in - there was silence.
For those who don't know, Blood Brothers follows the story of twin boys who are separated at birth. Mrs Johnstone is a single parent with seven children and is finding it difficult making ends meet and when she finds out she is pregnant with the twins she knows she won't be able to cope. Whilst at her cleaning job for Mrs Lyons, her middle class employer explains that she is unable to have children and that she will take one of the twins as her own. Thus Mickey Johnstone and Edward Lyons grow up in very different environments, though the boys have an instant bond when they meet at seven years old. Their relationship continues throughout their innocent adolescence. However the realities of their differences finally culminate in devastating results.
The undoubted star of this show is Maureen Nolan who is fantastic as the downtrodden Mrs Johnstone who dreams of dancing like Marilyn Monroe. Nolan has an incredible voice that, with Russell's emotional lyrics, sends shivers through the audience like a Mexican wave. Sean Jones (Mickey) and Simon Willmont (Eddie) are strong leads in this rollercoaster of a production and provide an energy that is almost tangible. In fact, the whole ensemble is fast and furious, snapping seamlessly from one scene to the next, hypnotising the audience into an incredible state of concentration that is only broken by their tears in the final scene.
As well as this superb cast, directors Tomson and Kenwright employ a stellar technical crew that leave no stone unturned regarding detail, and Musical Director, Kelvin Towse, leads a faultless orchestra. With Willy Russell's clever observation of children, wrapped in the mine-field that is the study of class, Blood Brothers will not cease to enthral its full audiences and will undoubtedly see the repetition of the standing ovations that took place last night.
Reviewer: V Mitchell