Blood, Sweat and Tears
Choreographed by Liv Lorent
balletLORENT
Northern Stage
(2010)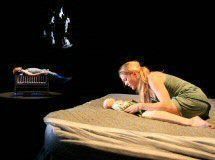 In 2008 Liv Lorent was pregnant and created MaEternal, a dance piece for two male and six female dancers and eleven pregnant women, about "facing both the idea and reality of pregnancy". Now a mother, she has created Blood, Sweat and Tears about which she says, "As I dealt with overwhelming feelings, both positive and negative, I recognised the huge transformation my life had undergone - and the need to embrace these changes."
Choreographed for seven dancers (four men, three women) and "timed" by a beautifully crafted large glass hourglass suspended overhead, the piece begins with deep tenderness as mother and father nurse the baby whom they pass backwards and forwards, taking him (or her) from his swinging crib, joining him in it, taking him to their bed, but, as the 28 minute long first part progresses, strains begin to show as the parents' time together is increasingly interrupted by the demands of the child.
As we move into part 2 and, after the interval, part 3, we see more and more how the child impacts on their lives, both in relation to each other and to their friends. At one point a large number of rag doll babies almost smother them! Even as one who is childless but who has seen how friends have been affected by becoming parents (or, at my time of life, grandparents!), I could see and feel the reality of what was happening to these two.
The movement vocabulary of the piece was created, says Lorent, "with the generosity of the whole company" and it is a vocabularly which places huge demands on the dancers, not just in terms of the energy and control needed but also in having to bear some movements - or, more particuarly, stillnesses - which must have been very painful. Kneeling on the side of the crib as it swung back and forth, is but one example.
Thought-provoking and moving, Blood, Sweat and Tears is a marvellous evocation of the effects of one of life's commonest experiences!
It is hoped that there will be a national tour of Blood, Sweat and Tears from autumn 2010 to spring 2011.
Reviewer: Peter Lathan