Blowing Whistles
Matthew Todd
TFP
Leicester Square Theatre
(2008)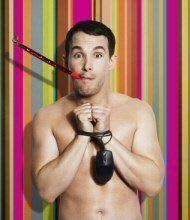 A friend turned down the chance to see Blowing Whistles with me, believing that "gay plays" were not for him. It was his loss - Matthew Todd's debut offering, playing at the recently opened Leicester Square Theatre, is a thematically nuanced and performatively compelling examination of love, estrangement, and identity formation: it is not a gay play; it is a fantastic play.
An Ikea-infested flat in Clapham. A ménage a trois. What should have been a night of guiltless sexual gratification - no strings (or cuffs) attached - proves a devastating rupture in the spleen of Jamie (handsomely played by Paul Keating) and Mark's (Stuart Laing - think Daniel Craig with bronchitis) ten-year, open (albeit with rules: always three in the bed) relationship. The third pea in the pod is seventeen year-old Mark (Daniel Finn), who, by virtue of social networking site Gaydar, finds himself wedged uncomfortably - one imagines - between two men on the brink of emotional collapse, himself nursing the pang of familial estrangement. "My dad don't like gays".
The germ of the relationship's implosion is Jamie and Nigel's differing conceptions of love. Jamie reveres Nigel, and endorses the swinging flavour of their relationship more to please Nigel than to satisfy himself. Nigel, conversely, values the lasciviousness of infidelity and revels in the polygamous energy that is at once a resilient stigma attached to and an enticing reality of gay life. For every lover Nigel and Jamie entertain, a small piece of Jamie's love for Nigel falters. Can love accommodate infidelity?
On the morning after Gay Pride - Nigel having stumbled in at 6am after yet another bout of drugs, sex and squashed salmon bagels - Jamie demonstrates the pride that was once the founding pillar of gay identity - he leaves. It is the courage to act with conviction and humility in the face of adversity that marks Jamie, and the play, as a glowing, empowering beacon of human-worth.
The play doesn't strive for moral didacticism, but it achieves it.
Placed under scrutiny, each character reveals a dense interiority that belies the superficial world - chat rooms, make-up, pink Diesel underpants - that Matthew Todd opts to house the action in. Mark is a mash of stoicism ("I don't feel the rain"), denial ("I'm not gay"), and rampant need for love and acceptance. Nigel, like Mark, lives in the shadow of paternal rejection. His resentment has been allowed to quietly brew, and now, fermented by a further resentment towards second generation London homosexuals (safe, he believes, from the political struggles, the illness, the prejudice) is threatening to overrun the stew. Jamie is lost; an outsider within his own community, at odds with the values and expectations inherent within it: shag this, wear pink, shop at Habitat.
Through Jamie, Todd asks: Does sex have to be the fabric of gay identity?
Cloaked in a comic intelligence (a bondage teddy-bear being hastily rugby-balled off stage on Mark's arrival at the flat; Jamie opting for Kylie Minogue as a soundtrack for Nigel and Jamie's foreplay), and executed with confidence and élan, Blowing Whistles is a frank and intellectual play that encompasses the many, and often frayed, strands of life, love and sex.
Reviewer: Ben Aitken