Bluebeard
Devised by the company and written by Samantha O'Rourke
Camisado Club
Alphabetti Theatre, Newcastle
–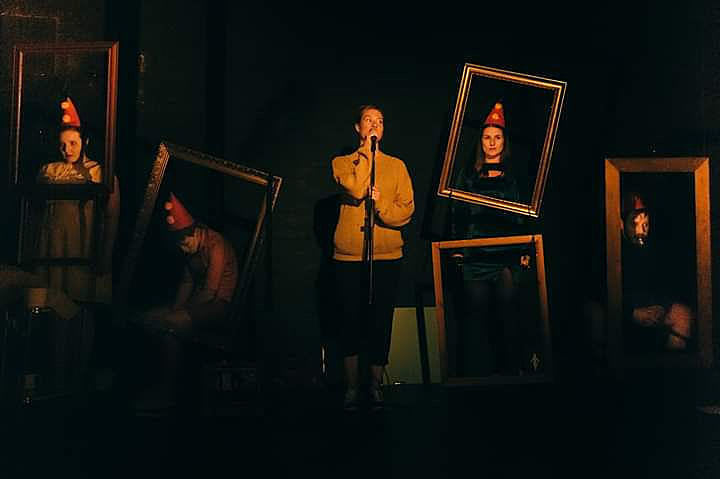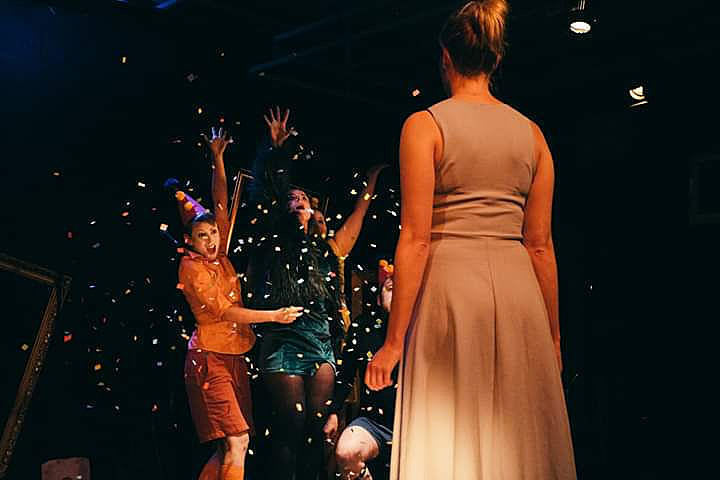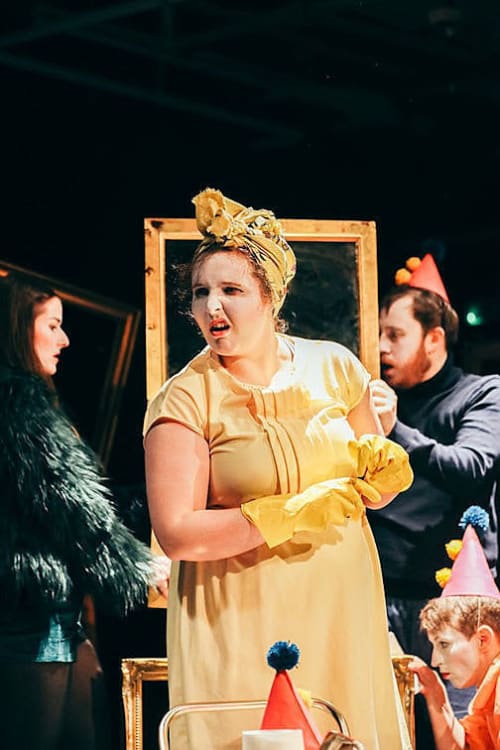 Originally a folktale recorded by Charles Perrault about a nobleman who kills a succession of his wives because they venture into the one room in his castle which he forbids them to enter, Bluebeard has been variously interpreted as a warning to women not to disobey their husbands or as a retelling of the Adam and Eve story where the woman's curiosity "brings death into the world and all our woe."
It was the inspiration for Angela Carter's novel The Bloody Chamber, adapted for the stage by Bryony Lavery, which we saw in a highly visual production at Northern Stage in 2008. Carter's version stays close to the original folktale, although transferring it to a slightly indeterminate twentieth century period, but Camisado Club's version moves away from the folktale, creating in its stead what is almost a modern morality play.
When she was 17, Ella (Lauren Hurwood) was inspired by a famous photographer and wrote a fan letter to him and he replied in an encouraging way. Now she is a photographer herself. A male friend (a bit of pompous ass really) invites her to go to an exhibition opening with him. Should she go? Should she stay at home?
She decides to go and so enters a surreal world.
The play's set (designed by Natalie Johnson) is made up of picture frames. No pictures, just frames, although we are told that in each frame is a photograph, a nude. Everything is frames, even the laptop. And there are four other actors (Jessica Dawson, Hannah Goudie-Hunter, Caroline Liversidge and Robert Nicholson) playing a number of parts. However they are Marcel Marceau-like whiteface clowns which emerge into and leave Ella's world through the frames.
Sometimes they twist and writhe to form themselves into strangely contorted groups and sometimes take on the character of a normal human being, albeit exaggerated. Goudie–Hunter, for example, becomes the man who has invited Ella to the exhibition, an over-the-top young aristocrat with a barking guffaw, a kind of P G Wodehouse member of the Drones Club taken to the extreme.
Liversidge is the archetypal cleaner, with turban, rubber gloves and trolley (and a good line in complaining), and sinister-seeming Nicholson is the photographer who had so inspired Ella all those years ago—and it's his exhibition. Photographs are taken and glitter is flung into the air as the flash goes off.
Ella wanders away from the exhibition and finds another room, a room which she enters, a room lit by red light…
There's an Alice in Wonderland feel about the piece, surreal and oblique. Ella is really the only normal human being—at least until she and the photographer meet. (But is he really normal?)
It's fascinating to watch and the time (it's only an hour long) passes quickly. There's humour there and there's also an underlying sense of unease, underscored by Nick John Williams's sound design and carefully nurtured by director Jack Cooper. It's the sort of piece which stays with you and works away in the background in your mind long after it has finished.
Reviewer: Peter Lathan