Duke Bluebeard's Castle
Bela Bartok / Bela Balazs
A semi-staged production by Opera North at Leeds Town Hall
(2005)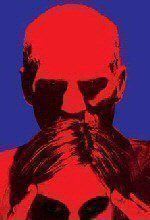 Duke Bluebeard's Castle is so overwhelmingly dramatic (and so short) it can easily afford to dispense with staging altogether, which is all to the good as the refurbishment of the Grand Theatre in Leeds has left Opera North temporarily homeless. Giles Havergal's minimalist production consists of Edwardian costumes for the heroine Judith (Sally Burgess), Bluebeard (John Tomlinson) and his three previous wives (non-singing and therefore uncredited), a few props and a video screen whose colour changes indicate the ill-fated Judith's journey through the rooms of her new hubby's castle.
It worked reasonably well at Leeds Town Hall but there were a few problems. Inevitably there were moments when the singers tended to disappear behind conductor Richard Farnes and members of the orchestra, and due to the less than perfect acoustics many of Burgess' words (an English translation by John Lloyd Davies) were incomprehensible. But despite these drawbacks the sheer power of the work kept the audience enthralled from beginning to end.
I must confess to knowing Duke Bluebeard's Castle only through a German-language recording which for some reason omits the anti-hero's spoken prologue. John Tomlinson, dressed as a slightly more bohemian version of King Edward VII, fixes the audience with a beady eye and makes these few sentences deliciously suave and sinister. Bluebeard's castle is not so much a horror film cliché as a representation of his own mind which his devoted new wife Judith feels compelled to explore; she insists on being given the keys to seven locked rooms and eventually takes her place with three mysteriously undead predecessors, leaving Bluebeard alone without so much as a marriage guidance counsellor to comfort him.
In some respects Duke Bluebeard's Castle is the evil twin of that other Symbolist masterpiece, Pelleas et Melisande. Indeed, it has been suggested that Debussy's traumatized waif is a runaway wife who managed to escape from Bluebeard before curiosity got the better of her. The legend of Bluebeard and theories about his possible real-life counterpart were much discussed in the early years of the twentieth century, a curious byway of cultural history - perhaps the increasing emancipation of women brought out the deep-seated anxieties lurking under the waistcoats of artists and intellectuals
Tomlinson, Burgess and the Opera North orchestra were in fine fettle - and fans of the admirable Peter Moores Foundation's "Opera in English" project will be delighted to know that this production will be recorded for the series. A word of warning: you would be well advised to hang onto your seat when Judith opens the fifth door. This must be one of the most shattering moments in opera and it loses absolutely nothing in a semi-staged production.
Touring to Manchester, Nottingham, Gateshead and Birmingham (last performance 11th June)
Reviewer: J. D. Atkinson