The Blue Room
Freely adapted from Arthur Schnitzler's La Ronde by David Hare
Theatre by the Lake, Keswick
(2011)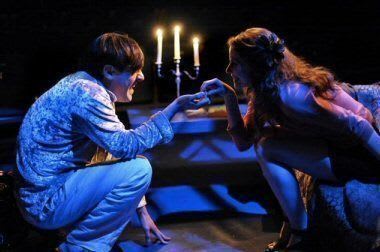 "Pure theatrical Viagra" trumpeted critic Charles Spencer in the Daily Telegraph when David Hare's The Blue Room premièred at the Donmar Warehouse in London in 1998, but in all the nude-celebrity-obsessed media coverage it seemed to get lost that as well as offering up a naked Nicole Kidman, the production also featured her equally-naked co-star Iain Glen and a clever and witty script by leading playwright David Hare.
Schnitzler's Reigen (it was filmed as La Ronde by Max Ophüls in 1950 and the title has stuck) is a sequence of completely separate bedroom scenes between different couples, but the clever part is that one of the couple from one scene always forms half of the couple in the next, even forming a perfect circle between the last and first scenes. This means that however much you sympathise with a character in one scene, you know they have betrayed their current partner in the previous scene or will do so in the next. We see the lead-up to and the aftermath of each sexual encounter, and the main story of each scene lies in how their behaviour towards one another changes once the deed is done.
In Schnitzler's day, frank portrayals of sexual behaviour onstage were shocking enough, let alone suggestions that sexual betrayal is so widespread as to be almost universal. Now it is more sad than shocking, but we can look beyond, perhaps, the sex itself to the power games, politics, embarrassments and odd courtship behaviour between the couples; or perhaps the media coverage of the Donmar production suggests that we can't.
Ian Forrest's production for Theatre by the Lake uses three actors rather than two to portray the ten characters, with Matt Addis playing the five male characters—the Cab Driver, the Student, the Politician, the Playwright and the Aristocrat—and the five female characters shared between Polly Lister as the Girl, the Married Woman and the Actress and Olivia Mace as the Au pair and the Model. This works perfectly well, and leaves at least one person free to change around the clutter of furniture on Elizabeth Wright's set, which may seem excessive for such a small space but actually gives the audience time to digest one story and prepare for the next.
Forrest's production is pacy and sexy, giving time for the comedy and the social and political comment to filter through naturally. All three performers are very good indeed, creating distinct characters without resorting to caricatures and with some impressive accents.
If nudity or explicit foreplay offend you then this is a production best avoided, particularly in the tiny studio space. For the rest of us, it is a very good chance to reassess Hare's play away from the celebrity glare of the original production to find a very entertaining piece of theatre that was well worth a revival.
In rep until 9 November 2011
Reviewer: David Chadderton