The Blues Brothers Christmas Party

Theatre Royal, Newcastle, & Touring
(2009)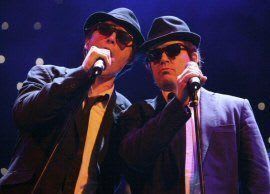 In 1980 John Landis and Dan Aykroyd gave the world the cult classic that is The Blues Brothers, a musical comedy that has continued to be a hit over three decades. Jake and Elwood Blues went on a mission from God that made the world sit up and fall in love with the world of blues music.
The Blues Brothers Christmas Party is a show that offers some Blues Brothers music in the style of the original film, offers two characters and humor in the style of the original film but sadly that's where it ends! With the added bonus of some very sexy and tuneful backing singers/dancers it is just...well, a party! Nothing ever really, truly recreates the magic of the 1980s classic. Instead the magic is in great songs that gets the audience up on their feet and dancing.
Featuring songs like "Everybody Need Somebody", "Gimme Some Lovin'", "Jailhouse Rock" and "Sweet Home Chicago", the party goes down well. Something that doesn't go down with me, however, was that half the set was filled out with songs from the movie The Commitments! If you use the Blues Brothers name, then you can't play songs from another movie soundtrack.
If you're looking for an accurate tribute to the original, you won't find it in this show, or any that's out there at the moment. What you will find is a good party atmosphere, some classic songs and the chance to dance the night away - not to mention the chance to sing Christmas songs a month early! So if you're feeling festive and want to put your dancing shoes on, then grab your coat and go join the party!
Reviewer: Wayne Miller