The All New Original Tribute to the Blues Brothers
EJB Entertainment and Charles Aerts Concerts, in association with Ampersand Productions Ltd
Wyvern Theatre, Swindon, and touring
(2011)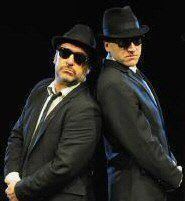 The Wyvern Theatre in Swindon launched its excellent Spring Musicals' Season with the high energy, heart thumping, rhythm and blues and rock tribute to The Blues Brothers.
The stage show has become a cult phenomenon touring throughout Europe and the UK and now they're back with an all-new tribute to their heroes and they wowed the Swindon audience.
Have no preconceptions: this show is not a musical, there is no plot but instead you experience a high-octane party celebration of the songs from the movie delivered with swaggering dynamism.
Dan Aykroyd and John Belushi started their band in 1978 appearing as an act on Saturday Night Live. They went on to release hit albums and starred in their own films before the untimely death of Belushi led to the end of the band.
The opening scene is true tongue-in-cheek humour, with techies trying to get microphones to work and helping a latecomer to find his seat in true panto tradition and then the show explodes into life with the truly superb band playing the Peter Gunn Theme with Jake and Elwood Blues descending on ropes from the flys, wonderful stuff.
Brad Henshaw and Daniel Fletcher, dressed in their black suits, pork pie hats and dark sunglasses, oozed vitality as they mimic the Blues Brothers and are joined by the outstanding Bluettes (Jocasta Almgill, Alexus Ruth and Vicky Goddard).
Almgill's rendition of Stand By Your Man was dazzling as was Goddard in Respect and Ruth had the audience enthusiastically joining in with Think.
Luke Jasztal, dressed in a white tail suit, gave a superb version of Minnie the Moocher.
You have to admire the considerable talents of Henshaw and Fletcher. They look, breathe and perform as the Blues Brothers with wonderful voices and great comedy touches as in Rawhide with Henshaw's hilarious lassoing routine. By contrast Fletcher's slow melodic Boardwalk was a poignant rendition of song about first love and stolen kisses and his harmonica solo was sublime.
The audience had great fun participating in the Flip, Flop and Fly song, complete with a song sheet for those that didn't know the words and the competition between the various segments of the auditorium was fierce.
The medley of songs at the end brought the enthusiastic audience to their feet as they 'shaked their tail feathers' and danced in the aisles.
With spirited choreography by Debbie Jenner and spectacular lighting (Tjeerd Hendriks) this was the perfect antidote for the depressing winter blues. Go - you will not be disappointed.
Reviewer: Robin Strapp