Bodies
James Saunders
Two's Company and Karl Sydow in association with Tilly Films
Southwark Playhouse (The Little)
–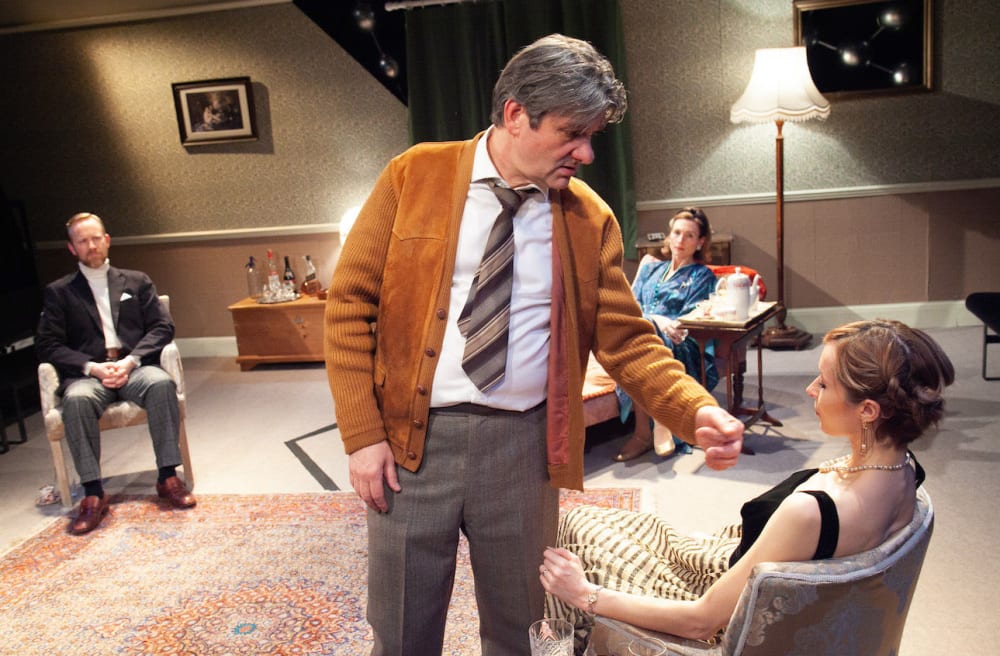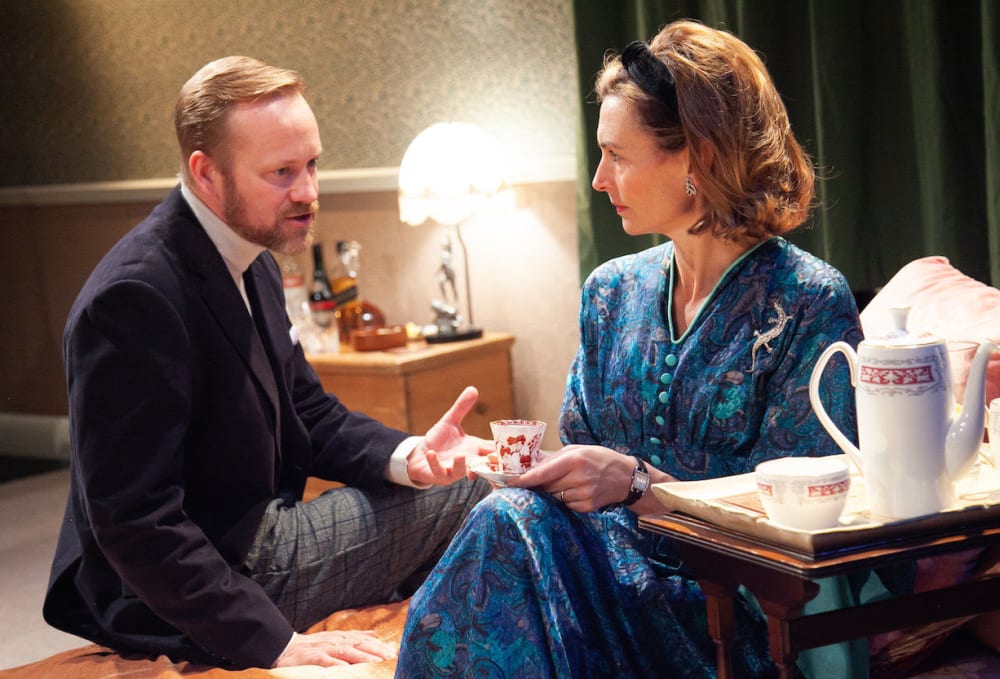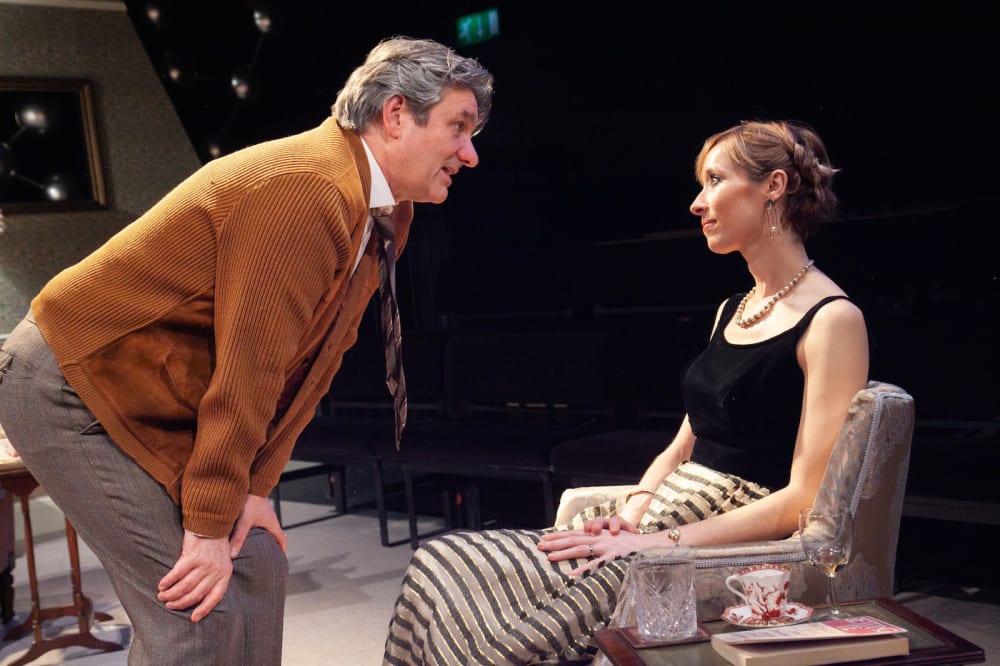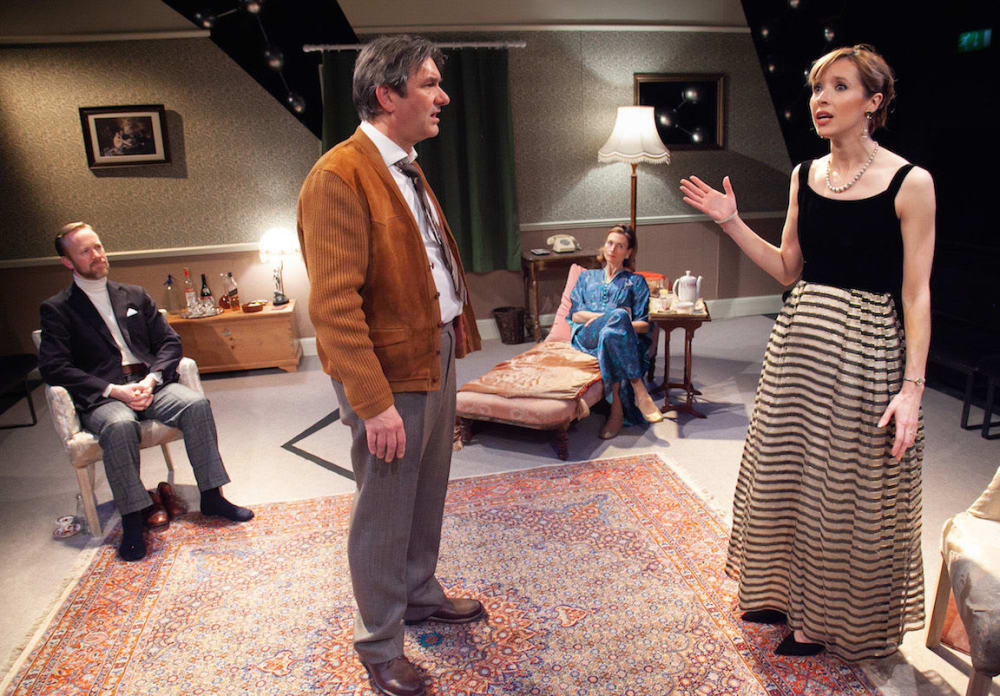 Bodies starts off as a series of monologues delivered on a set split down the middle by a lightning-like zigzag that marks two separate households. First there is Ann (Annabel Mullion), living with her schoolteacher husband Mervyn (Tim Welton) in Ealing, next is businessman David (Peter Prentice), married to Helen (Alix Dunmore) and living in Esher, a couple recently returned after spending the last nine years in the US. Then we hear from their partners, each giving their version of their infidelity, having affairs with their friend's wife or husband.
The monologues sometimes lead into dialogues as lover or spouse joins them. Over the hour that the first act plays, we learn quite a lot about them. How for Anne that first infidelity at 40 seemed to give her life meaning, though it began as a kind of revenge. How David was a reasonably talented Sunday painter, though he has given up now. That Mervyn, now a headmaster, has been reading a book on the psychology of EST (a method of freeing oneself from the past developed by American Werner Erhard, which became something of a cult in the 1970s). It was lent to him by his most talented pupil, a boy who asked him such searching questions as, "which has the most value, art or life?", a boy who has now crashed his motorbike into a brick wall and lies in a coma.
It turns out that the affairs disrupted their marriages but the partners got back together, though the friends largely lost touch apart from a conventional exchange of cards at Christmas. In the States, David and Helen have been through Erhard's personal development training course. David professes to no longer believe in such things as love, trust, fidelity, truth or value: to see everything just as it is, to live in the present.
Now hearing that David and Helen are back in the UK, Mervyn has looked up their number and, to Anne's consternation, invited them over for dinner. Anne is terrified at the idea but Mervyn won't find an excuse to call it off.
A contemporary dramatist might leave it at that: an hour-long play intriguingly exploring personalities and telling back-story and raising interesting issues that leaves the audience to imagine what happens at their reunion and a play that also provides opportunities for excellent acting (which it gets from all of the players). But when this was first staged at the Orange Tree back in 1977, audiences expected more than that: they wanted an evening of theatre, not something just the length of a television programme.
There is a second act: we see that reunion.
The set is no longer divided. We are in Anne and Mervyn's house, their William Morris wallpaper right across the wall and it is after the dinner, coffee already served to Helen and David in delicate cups that match the delicate situation. Bodies now offers a mixture of intense debate and virtuoso performance.
Mervyn has read the book young Simpson lent him and, while he waits for a telephone call concerning the young man, he interrogates David. He's found the book convincing, he can't find the flaw in its arguments that we should conserve our own energies and leave the world's resources to take care of themselves, stop looking for that childhood love that you can't have when childhood is over, treat everything, including ourselves, as a functioning machine, not look for meaning, the mind is a mechanism for living, there is no separation between living and doing.
While David is relaxed as he goes on about the Therapy, which presents happiness as unreal as unhappiness, Mervyn, working his way through a bottle of whisky, his face changing as he gets increasingly more drunk, finds himself unable to refute an argument that negates the things most dear to him. This cure for the neuroses of society seems to ignore any responsibility towards the environment and to have no room for art, for poetry, the intangible, the things behind music and words that fill you with wonder.
Director Tricia Thorns draws excellent performances from all her cast but the way Tim Welton presents Mervyn's alcohol-fuelled desperation is acting to especially cherish. As well as a reality of increased inebriation, he gives us clear argument and consistent characterisation.
James Saunders writes beautifully, exploring matrimony, friendship and infidelity pursuing a debate that is still relevant and this cast deliver his text with impeccable clarity. Bodies is understanding about relationships and intellectually engaging but it is not heavy going for it is also often very funny.
Reviewer: Howard Loxton