Boeing Boeing
Marc Camoletti, translated by Beverley Cross
Lyceum Theatre, Sheffield, and touring
(2009)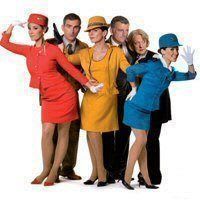 If you are a promiscuous young man living in a large apartment in Paris - three bedrooms, bathroom, sitting room and off-stage dining area - and know the right contacts, you can have a steady flow of telephone numbers of beautiful air hostesses, and with a copy of the International Airlines timetable, you can ensure that each of your visitors sets off round the world before the next one arrives.
Bernard (Martin Marquez) is in this fortunate position and describes to his newly arrived old friend from the past, Robert (John Marquez), how his system of polygamy allows him to be engaged to three but avoid the decisions of marriage. Robert is amazed at this system as he is contemplating matrimony, the only thing missing being a woman who he might consider in the role. They are fortunate in having a long-suffering house keeper (Susie Blake) who copes with the complications of the system, serving appropriate meals to match the national tastes of the current trio, from USA, Germany and Italy, as well as helping in trying to preserve the correct occupancy of the bedrooms..
The system is running smoothly until Gretchen (Josephine Butler) from Lufthansa falls for the naive Robert and teaches him about love, and while Bernard is out dining with Gabriella (Thaila Zucchi), Gloria (Sarah Jayne Dunn) from TWA telephones to say that a severe storm in mid-Atlantic has brought her back to Paris and she will be at the flat soon. This complexity is not readily unravelled without considerable exhibition of the supposed national characteristics of the three ladies.
The play runs at the speed of a modern Boeing, but the set has the lavishness of an old fashioned air-liner, first class, as do the four ladies, with the three air hostesses showing less sang froid in the midst of confusion than the calm, well organised Bertha who tolerates it all till almost the end, when she is all set to stalk out, recalled only by an offfer of a percentage increase in her wages which she elevates step by step from 10 to 40%.
It is a clever, entertaining, well planned evening which might almost convince the right person to become an air hostess or a manipulator.
Sheila Connor reviewed this production at Woking
Reviewer: Philip Seager