Boiled Beans on Toast
Girish Karnad
Primetime Theatre Company
Watermans Arts Centre
–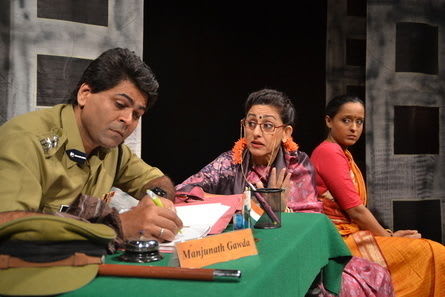 Girish Karnad has set his play in Bangalore and his title refers to an old story of how that city was named by a hungry king who was lost in a forest.
He knocked on a peasant's door and an old woman served him boiled beans: benda kalu. "Henceforth this place shall be called Benda kala uru" he declared, and down the years that turned into its modern name of Bangaluru.
The confusion of Western and Indian cuisine in the play's title is a reminder of the mix of Western and Indian values in the busy life of the modern city, with its complex confusion of poverty and wealth, simplicity and sophistication which Karnad suggests through those living in one household and their connections.
Karnad is a well-respected, award-winning writer and the play is directed by Lillete Dubey, Primetime's Artistic Director and a leading Indian actress (who can currently be seen in the Best Exotic Marigold Hotel movies).
One Indian review called this play a Chekovian comic drama but this sets out to be a popular entertainment and in no way pretentious. However, like Chekhov's plays, this presents a bourgeois family at a time of change and there is even a tree being cut down, symbolic not just of a change in society but the way in which the authorities are destroying what is left of the natural world to make more room for concrete.
Here, though, it is not the old landowners but the new businessman middle classes that are at the centre of the story, and the style more like soap opera or sit-com than philosophically Chekhovian.
It mainly takes place in the home of Anjana Padabidri (Deepika Amin). Her husband may have been born in the countryside but he is now has an international business and she a lady of leisure, though she responsibly volunteers at a cancer care home. Son Kunnal (Avnish Mehra) ignores his studies and wants to be a singer-songwriter while his visiting grandmother (Swati Das) pawns her jewellery to finance her flutters at the racetrack.
Their cook Vimla (Das in a very different double), an accomplished liar, bosses the maid (Gillian Pinto), has a racket renting out half their kitchen equipment, moonlights at another household and lives with a thief lover not, as she claims, at her sister's.
Visitors include Anjana's society friend Kitty Iyer (Avantika Akerka) who counters boredom and abuse from an often-absent husband by cruel games hoaxing poor workers into believing she is using her social contacts to get them better employment. Prabhakar, a naïve villager in love with the city and its concrete, is one of her victims. He turns up expecting an interview with the absent Mr Padabiri when Kitty latches on to him.
Joy Sengupta's performance puts this poor innocent right at the heart of the story. It verges just on the right side of caricature. Prabhakar, Kitty, grandma Padabidri and Vimla are all heavily satirised versions of rather stereotypical contemporary characters allowing them to be subject for laughter. If they were presented more naturalistically they might no longer be funny. Every one of the cast plays more than one role with great versatility.
As the play develops, scenes in the poor parts of town and in the village that servant Muttu comes from and confidences that Anjana shares with Kunnal give the play a darker edge but, although it references ecological concerns, the contrast between village and city, materialistic aspirations and old values and the sacrifices made to attain wealth and conform to status, it makes no attempt to dig deeper.
Boiled Beans on Toast offers mainly people to laugh at, with a touch of romantic sentiment to take away any sting before ringing down the curtain.
Reviewer: Howard Loxton