Bollywood Jack
Farrukh Dhondy
Tara Arts Theatre
–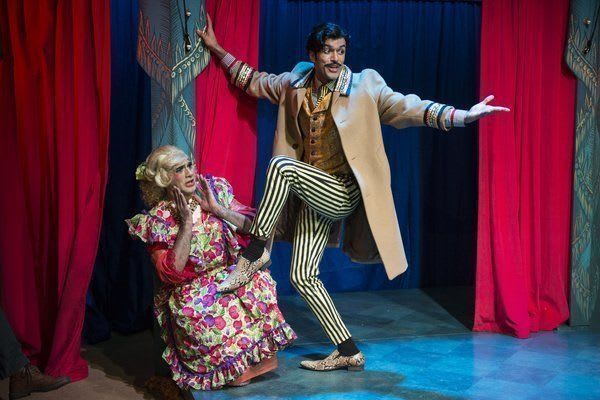 This is Tara's take on Jack and the Beanstalk, storytelling in a panto tradition with a touch of Bollywood in Danyal Dhondy's music and the company's dancing, Bombay bling in Claudia Mayer's costumes and a beautiful blue Holy Cow called Moomoo.
It is a pocket production in an intimate venue so you get audience involvement rather than spectacle, but there is no shortage of colour and vitality. Every shade becomes a bit brighter, ever gesture a bit bigger from Moomoo's blue face and red lips to Giant Hubble-Bubble's tight gold trousers and an audience arm-waving dance-along to help Jack climb the green fairy light beanstalk.
Jatinder Verma's production follows best panto traditions, not least in cross-gender casting with Sohm Kapila as titular Zak in breeches and painted on moustache, warm-hearted and dashing if just a bit lazy when it comes to domestic duties. Aria Prasad's Zeta, the girl whom he falls for, is pretty but practical, a dab hand at fixing things electronic.
Zak has dreams of Bollywood stardom but Bollywood has rules. As he gets close to Zeta, he is reminded of Mumbai movie rules: "No kissing! Only stare!"
This year's Dame is Ralph Birtwell as Zak's blonde-haired mum Mrs Moowallah. You can only describe her as "a caution", closely bonded with Shala Nyx's delightful Moomoo. They are a great pair but when the rent's in arrears how can they stand up to Adam Samuel-Bell's sexy but smarmy Conman Constantino who's under orders from their Giant landlord to throw them out.
Deven Modha is an outrageous Giant Hubble-Bubble with a quiff that you would think would unbalance him. Up in his cloud kingdom, there is his put-upon Wify (Shala Nyx, showing her face now) dying to escape and Adam Samuel-Bal (hiding his) as gold-egg-laying Fingerlicken, the layered wool fringes that are his feathers looking very impressive. There's a nice twist here in that things up in giant land become very little when brought down to our real world. I can't help feeling there is a moral in that but if there is it is hiding "behind you".
Hiding too under a drab cloak, until he cast it off and red cloak and gold chain proclaimed his civic dignity as real life Mayor of Wandsworth, is Councillor Richard Field playing himself (a role that his Worship will repeat at several other but not all performances).
That is an appropriate reminder of the great part that Tara plays in the local community. This panto is also the first in the new theatre and it marks that in its opening number with a hard-hatted chorus celebrating the new building (which has already started winning awards).
Installed above the actors are Danyal Dhondy on keyboard with tabla player Hassan Moyheddin on percussion and singer Ernest Ignatius who sometimes acts as narrator. Music is an essential part of this show and it couldn't be in better hands, or on-stage better voices. There is no song-sheet for this show but the audience get their chance in an appropriate "Bean Song" full of names, some of which you may never have heard of, though perhaps have unknowingly eaten. Beans mean some jokes that stink too, but effects fortunately haven't followed up in practice.
Bollywood Jack is a light-hearted romp that is a treat. It is real family entertainment, not just for the family but making the whole audience feel family in a theatre that is part of its neighbourhood but also only 10 minutes by train from central London.
Reviewer: Howard Loxton