Bollywood Trip
Parminder Singh, music by Stephan Grabowski
Republique Theatre Company
Queen Elizabeth Hall
(2011)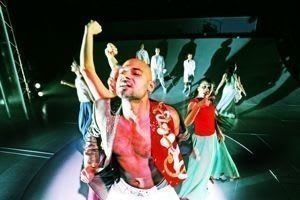 A co-production between the South Bank Centre and Denmark's Republique Teatret (the first of three such ventures planned), this synthesis of text theatre, music and dance is very much the creation of director Rolf Heim and choreographer Gauri Sharma Tripathi, who is an Artist in Residence at the South Bank Centre, abetted by scenographer Sisse Gerd Jørgensen, whose set enables some intriguing action.
Publicity says "Get ready for One Flew Over the Cuckoo's Nest meets Bollywood!" but this is neither a reworking of the Ken Kesey story nor a Bollywood musical, though it certainly has elements of both. It is set in a Danish psychiatric hospital and has music and dance with an Indian flavour as it explores the story of an ethnically Indian young man who is now in a psychiatric ward after an attempt to set himself alight. He speaks Danish but he claims to be Haroon, a Bollywood movie star, but is he actually Thomas Lindorf, an Indian adopted in infancy by a Danish couple and brought up in Denmark who went off to India in search of his birth mother.
The production concept destabilises any certainty of situation from the very start with a set that towers the full height of the stage and stretching right across that presents the clean lines of a duck-egg blue wall with a bright red door and tall windows. There are Indian-looking musicians sitting by their instruments on the floor on either side, presumably they are the band but things have hardly begun when a couple of them are told to go back to their rooms: they are actually patients.
White-coated Dr Jens Sloth (Thomas Corneliussen) is talking to his female colleague Mette (Laura Müller) and seems irresistibly drawn towards her, literally since his feet are standing still, a pattern that is repeated in case we didn't notice. He seems just as incapable of initiating his own action in terms of expressing his feelings.
When walls and windows start sliding sideways, the inside of the institution opens up, or is it the inside of their patients' and doctors' minds? for behind the neat and clinical exterior is a pristine white slope, a sort of giant slide that stretches upwards to an edge where people sometimes sit and sometimes disappear and stretches sideways as far as one can see. Staff and patients run upwards to scale its heights, career across it and slide down face down or on their backs; this surely can't be the real world but a mental state.
While the psychiatrists try their therapies, chemical and otherwise, to bring Haroon into the real world, the Indian brings the spirit of Bollywood to the ward and in particular to encouraging the romance developing between Jens and Mette.
Janus Nabil Bakrawi (actually a Polish-Palestinian) makes a creditable Indian film-star shimmering in white satin or in a sequined gilet; my lady companion was very struck! His feelings and his effect on the psychiatric unit is expressed in dance with the help of four excellent Indian dancers (Jasal Patel, Subrata Pandit, Surashree Bhuttacharya and Manuela Benini). At times the revolve used to create that unmoving feet effect is used to place them circling around him. The choreography is imaginative and lively, with one sequence employing the swinging sleeves of straitjackets but it never generates the headiness of a Bollywood musical. Though we discover the director of the unit is a high-testosterone pussy hunter who has beaten the appropriately named Dr Sloth to Mette, it never generates much sexual heat.
The score, with its mixture of traditional and modern sounds, is often vibrant and makes one expect the full Bollywood exuberance but we are supposed to be in Denmark not Delhi and that may account for the restraint that seems to be at work. Without it, perhaps this could take off onto another level.
"Bollywood Trip" is at the Queen Elizabeth Hall until 18th December 2011
Reviewer: Howard Loxton