Bombay Superstar
Samir Bhamra
Phizzical
New Wolsey, Ipswich
–

Listing details and ticket info...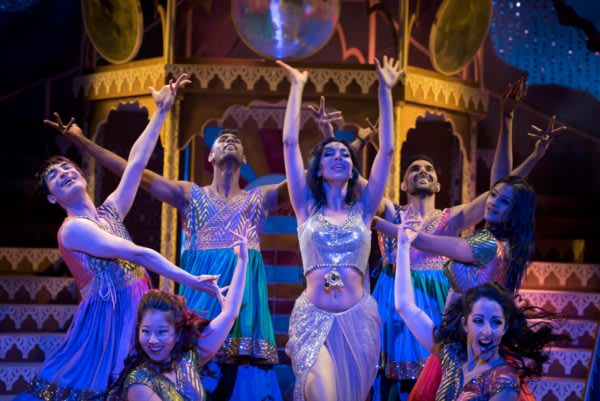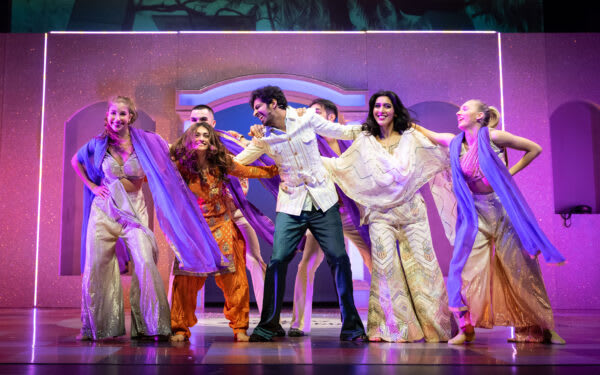 Bollywood—in the West, the word conjures up a big budget spectacle of dance and colour that usually tells the story of a hero and a heroine, star-crossed lovers with a fairytale ending. In India, the actors are the icons of the people and the films escapist blockbusters that are an intrinsic part of their lives.
Bombay Superstar takes us right back to the 1970s to tell a story based on two superstars, Rajesh Khanna and Amitabh Bachchan, whose rivalry spanned a couple of decades and whose lives on and off the screen changed the industry for ever.
On a sparkly-walled set a bit reminiscent of early Eurovision, a small but enthusiastic team of dancers and singers take us through the story of Laila (Nisha Aâliya) who travels to Bombay after the death of her mother to seek out her father, famous film director Din Dayal (Chirag Rao). But as she is the product of an affair, he refuses to acknowledge her and she is left to fend for herself on the mean streets.
She is taken under the wing of handsome actor Sikandar (Rav Moore), whose rivalry with playboy star Vicky (Robby Khelawho) will eventually spiral into tragedy. Sikandar introduces Laila to a rival director, Tiger (Yanick Ghanty), who promises to make her a star.
Sikander and Laila start working together and their partnership on screen launches a golden age of blockbuster films which puts Vicky's star into the decadency along with Din Dayal's studio. And they inevitably fall in love, but the road is rocky as Sikander is married to Mala (Pia Sutaria) and they have a child.
Will jealousy consume them all? And will Leila's father acknowledge his famous daughter in public before a plot to reveal his secret comes to light and brings them all down?
All this is played out in both dialogue and a number of set musical numbers authentically choreographed by Rohan Shah and Shrunti Shah with the small ensemble of dancers in disco-type sparkly costumes, sung in Hindi by some strong backing singers (with helpful captions above the stage).
The first half took a little time to get going and it was a bit difficult to get to grips with the various characters (especially without a programme—you had to download a digital version, something I find impossible to read on a phone). But once the cast got into their stride and the story took shape the evening really began to take off. The dancing is very infectious, the singing beautiful and the feel-good factor makes you forgive the rather flimsy plot.
Don't expect deep and meaningful drama, but if you want a fun evening that gives you the best of the 1970s feel in the company of an enthusiastic and talented diverse cast, this is for you.
Reviewer: Suzanne Hawkes