Bomber's Moon
William Ivory
Belgrade Theatre, Coventry
(2011)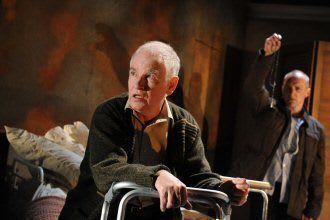 It's the paradox of Britain today: our population is rapidly ageing while society becomes increasingly obsessed with youth. So despite their growing numbers many older people report that they feel invisible and are not taken seriously. This frustration is evident in Jimmy (Paul Greenwood), the central character in William Ivory's new two-hander Bomber's Moon who served as a gunner in an RAF Bomber during World War II.
Jimmy is now confined to his room at a care home and the play opens with the arrival of his new care worker David (Tim Dantay). It is David's first day on the job, which has not gone well so far, and Jimmy delights in winding David up. Despite Jimmy's obvious frustration with his ageing body and all its limitations, he has a wicked sense of humour. David is not coping with his new responsibility and the situation is not helped by Jimmy's teasing. Jimmy is rude and grumpy and much of the play's humour derives from Jimmy saying thing that are far cruder then we would normally expect from the mouth of an elderly person.
It soon becomes clear that David needs Jimmy as much as Jimmy needs David and the two come to cherish the daily visit. David has turned to religion and care work after losing his own father and the breakdown of his marriage. It is clear that David isn't coping but Jimmy soon becomes a father figure to him. While Ivory uses the characters to explore ideas of religion and faith, I think it is this co-dependent, inter-generational relationship between the two men that is the more interesting story. While Jimmy is physically too weak even to go to the toilet on his own, he has a mental strength that David is lacking and this often leads to an interesting reversal of the expected patient-care worker relationship.
It must be said that part way into the first act Greenwood suffered some sort of momentary breakdown and was unable to remember any of his monologue or hear the prompt. There was then a blackout and clumsy transition to the next scene but Greenwood was still unable to perform and after leaving the stage an impromptu interval was announced. The show did resume after a short break but there was a sense of nervousness amongst the audience as they waited to see if Greenwood could get through the rest of the show. To Greenwood's credit he did and the show continued without any hitches.
Laura McEwan's clever design recreates the dreary room to which Jimmy is confined within a metal shell that is reminiscent of an old aircraft fuselage. This is particularly affective for Jimmy's nightly World War II flashbacks. However these flashbacks, portrayed using pre-recorded audio and bold lighting effects, are far too long and so lose their dramatic effect. Likewise Dantay's increasingly hysterical portrayal of David, a man who is clearly on the edge, does begin to push the limits of believability at times. But overall Bomber's Moon is an interesting story that challenges us to remember that the elderly still have a lot to contribute.
"Bomber's Moon " runs at the Belgrade Theatre, Coventry, until 1st October
Reviewer: Iain James Finlayson