Bones for Prince
Lia Bugnar
New Diorama Theatre
(2010)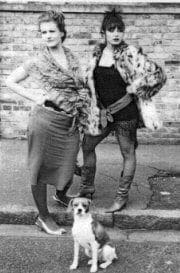 If you were a fledgling opera singer with the chance of singing Violetta in La Traviata in Auckland if only you could find the cash for the flight to New Zealand, what would you do?
The unnamed character, played here by Alice Fernbank, decides to try prostitution, but naively believes she can earn £500 from one client as a street girl. We see her, nervously taking up station, wriggling out of her shoes to slip into gold strapped sandals, shedding her coat, removing a headscarf to drape it fichu-like round her shoulders, stuffing things away in a huge holdall and painting on big bold lipstick. All the time she is nervously watching out for the police and embarrassed lest anyone should witness her transformation.
Unfortunately she has chosen to station herself for trade on another girl's patch. The feisty foreign whore who sets about scaring her off gets a vibrant performance from Romanian actress Andreea Paduraru. After a beautifully played wordless opening sequence the play charts the changing relationship between the two women as they offer their wares to the motorists passing.
It is funny and touching at the same time. Christian Hogas' production focuses on the performers undistracted by any setting but considerably helped by a carefully planned soundscape by Matt Hall. Movement director Omar F Okai gives a degree of stylization to their flaunting that matches the theatricality of the situation, with the naïve singer awkwardly imitating the practised professional who turns out to be pretty soft-hearted, though Paduraru makes sure that this doesn't come over as cliché.
Mongrel Prince, making his theatrical debut, is a little charmer and it says a great deal for the quality of the actresses' playing that they integrate his performance with theirs and he doesn't steal the show. This show runs less than an hour but not a minute is wasted.
Further performances as part of a season of Romanian work at New Diorama Theatre 14th & 21st May (when you can see it for free if you buy tickets for the earlier show of the evening) and at Romanian Cultural Institute 15th May 2010.
Reviewer: Howard Loxton