Boogie Nights
Jon Conway with Shane Richie and Terry Morrison
Qdos Entertainment in association with the Churchill Theatre Bromley
New Victoria Theatre, Woking, and touring
(2007)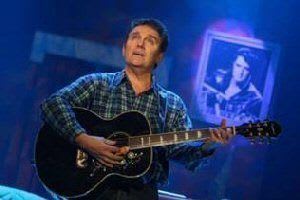 This show is now on its tenth anniversary tour and the audience know what to expect. As they file in they hardly need the 'warm-up' guys with their shouts of "Welcome – especially to all those sexy girls" and "Woking – are you ready to party?" They're ready to party all right. This is a celebration of the songs of the seventies and everyone seems to know not only the music but all the words too, and they happily join in whenever possible, young and old alike.
The story begins with a wedding – local boy weds his childhood sweetheart – or so we believe. This is the only twist in a simple tale of young immature romance as the bridegroom is not the one we expect. The tale is full of stereotypical characters and their lives at this period in time, but then this is only a vehicle on which to hang the important stuff – the music.
Flash back to the beginning and 'Essex schoolgirl' Debs (Natalie Waters) meets local boy Roddy (Antony Costa) where their romance leads to trouble – you've guessed it! She's pregnant! Afraid to tell her Mum, she can't even bring herself to tell the father, and Roddy happily concentrates on his sought after music career – and other girls.
Roddy's father, Eamon, is Alvin Stardust who knows all about life in the seventies as it was then that he shot to fame with "My Coo Ca Choo" followed by numerous international hits, and here he is a man who worships Elvis and despairs of his wayward son ever making it in the music business. He has his moment of glory reprising his most famous hit, but he also nicely portrays the disillusioned father.
The set is constantly on the move – quite often unnecessarily so in my opinion, but it adds to the frenetic sense of life lived at a tremendous pace with fraught relationships forever in chaos. In the party spirit the girls wear very tiny hot pants and very long platform boots, and the dancing (choreographed by Alan Harding) is bursting with joyous indefatigable energy which continues at full steam right to the very end of the show and beyond, when the every member of the capacity audience leaps to its collective feet and joins in. "Blame it on the Boogie Medley", as the song says.
There is plenty of cheeky back chat between stars and spectators, Costa being particularly quick with his responses, plenty of corny gags to keep the fun flying, and countless suggestive pelvic thrusts to get the audience excited. That worked too!
A impressive and sympathetic performance from Nick Bailey as Spencer, despite his character being a seventies idea of a stereotypical rough and tough black man, into dealing in drugs, knocking his girl friend about and believing himself to be invincible. Also his voice came through low and melodious, which could often not be said for many of the others who suffered from amplification set at a level which tended to distort.
Trish (Jane Doyle) and Terry (Pete Hillier) are the geeky characters giving a comic twist to the tale, Hillier particularly excels in his agile and over-the-top portrayal, and the show finishes with the wedding and everyone getting what they want – so - a happy ending, which is just right for a celebration.
Touring to Birmingham, Plymouth, Barnstaple, Southend and Brighton.
Steve Orme reviewed the 2003 tour at Nottingham
Reviewer: Sheila Connor