Book Story
Ben Glasstone
Monstro
Little Angel Studio
–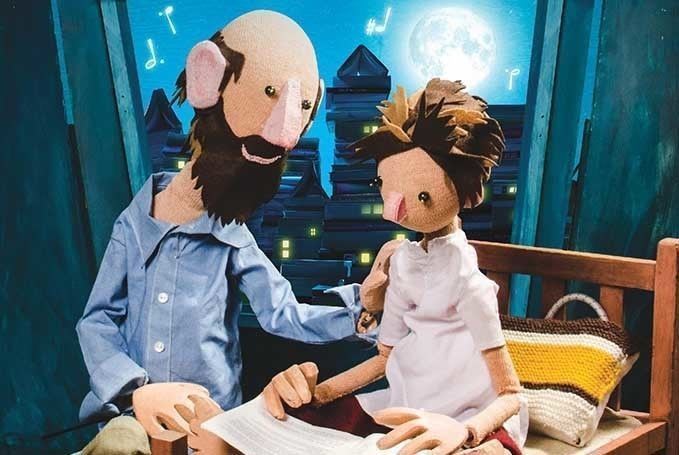 Beginning with a puppet presentation of a father reading to his son, with the boy rejecting a succession of titles to end up with dad telling a story, this looks like being a well-meaning piece to recommend reading. Then it takes off into something different, a surreal adventure and a picture of overcoming personal insecurities and sadness.
Brian, the little boy, thinks they have so many books in their house they could open a library: so they do! At first it is dad who runs it but, as Brian gets older, he takes over and the action becomes a mixture of live performers and puppetry.
From the start, youngsters will like the jokey way book titles are matched with authors and Brian's anecdotal description of how an ordinary bun got to be hot and cross, or when Brian reads a blurb that says a book is unputdownable and when he tries to lay it on a table or back on a shelf finds he still holds on to it. More sophisticated material follows for the grown-ups but there is always plenty happening, like the excitement of new books arriving, so if some things go over youngest audience heads they won't worry.
Brian (Phil Yarrow) and his two assistants (Karina Garnett and Andrea Sadler) are always busy, though Brian seems usually still asleep when the ladies arrive to start the day. Often he wakes up from a dream and tries to write it down to work it up into a story but somehow never remembers enough.
What Brian and the librarians don't know is that when the assistants have gone home and Brian has gone to bed, the books come to life and leave their shelves. Designer and puppetry director Michael Fowkes has given each book one jointed arm and hand and that makes the rest into a body that is totally mobile. They can climb the shelves and leap between the furniture. Their jacket designs not only fit the subject but feature items in the illustration or the titling that immediately suggest a face—the two Os in "BOOK" for instance become two eyes.
Books may be mobile but they don't leave the library except when someone takes them out on loan, or when they are worn out or no one has borrowed them to read for ages, when they are withdrawn and given away or sold.
There comes a time when readers and borrowings fall off, there are not so many holidays off the shelf, people can store their own library digitally on a tablet. To make things even more depressing, Brian's dad dies. It's then that Brian finds things his dad had stacked away from Brian's boyhood, including his favourite storybook. One night, the other books are taking a look at it when it accidentally gets knocked into the withdrawn box and there is no time to retrieve it. The librarians don't notice and so it goes out with the real withdrawals. Brian is very concerned when he can't find it.
That's when the big adventure starts. Brave volume 1001 Big Ideas, responsible for knocking it over, decides they have to find it and, disguising himself in Brian's knitted headgear, goes off to do so.
It's cleverly done and, though by the time 1001 gets the other book back Brian has got over its disappearance, there's another way it makes him happy (can you guess it?) thus bringing closure to this Book Story.
Playing 75 minutes without an interval, Book Story held an audience at the young end of the age range for the whole time. It toured last year with a slightly different cast and follows this Little Angel season with another wide ranging tour through October—details at www.monstro.uk.
Reviewer: Howard Loxton