Bootless Cries
Created by Supple
Produced by Kryptic Movement & the egg
The egg, Theatre Royal, Bath
(2008)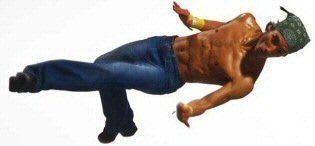 As an adventurous finale to the Shakespeare Unplugged Festival, the egg has commissioned a piece of "visual theatre" with the intention of bringing the Sonnets to a young adult audience who perhaps would not otherwise be drawn into the theatre. The result is Bootless Cries. Urban dance choreographer, Supple, and his company Kryptic Movement, use a fusion of Hip Hop, parcours and street dance in a series of duets exploring five sonnets.
The experiment seems to have paid off: the audience was predominantly adolescent, and the chatting, coke-drinking and texting was soon replaced with an awe-struck hush once the dance began to Iian Eshkeri's urban-music soundtrack. The dancing was certainly mesmeric (performed on press night by Supple and Tommy Franzén): a spectacular, highly energised and faultless performance from both men.
Peppering the soundtrack were excerpts from the sonnets, performed, on audio only, by Chad Hobson. And here's where the production begins to falter. The delivery of the sonnets is empty, lifeless and monotonous; a more powerful, considered delivery would help bolster the piece's narrative.
As it was, the fact that there is a narrative (written by John Mcintyre) was lost on me. The programme notes afterwards reveal that the piece actually has a biographical focus, telling the story of the Earl of Southampton's patronage of the young Shakespeare, and of the later involvement of Marlowe. It is apparently a story of love, lust, betrayal; of a sixteenth century promiscuous underworld and of Shakespeare's personal crisis of confidence. This is powerful stuff which the piece just doesn't deliver.
However although the narrative is lost, some of the more affecting pieces, particularly Franzén's forlorn 'raven eyes', and Supple's hallucinogenic take on 'compounds strange', are sharp enough interpretations of the excerpts of poetry woven into the sound track to make Bootless Cries work as a series of impressive, if apparently unconnected, solos and duets.
Those audience members who had been drawn to experience a novel take on Shakespeare were certainly not disappointed, and were clearly carried along by the powerful physicality of the dancers. And the bulk of the younger audience, there for the Hip Hop, were undoubtedly blown away by what they saw. The unfocused narrative is a disappointment, then, but this is nevertheless a production with enormous impact.
"Bootless Cries" runs at the egg until Sunday 9th March
Reviewer: Allison Vale