Borderline
Sebastian Ramirez and Honji Wang
Wang Ramirez
Sadlers Wells
–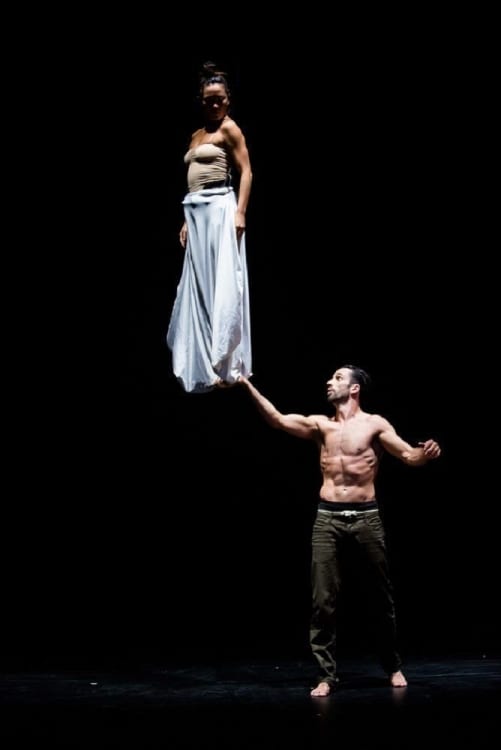 Sadler's Wells's annual Breakin' Convention brings some of the most innovative dancers and makers in hip hop to the stage. Choreographic duo Sebastian Ramirez and Honji Wang have been creating work as their company Wang Ramirez since 2007 and at this year's festival they present Borderline, a performance that fuses breaking, contemporary and ariel—with a twist.
In near darkness, we watch two female dancers in bungee harness struggle towards a cage-like metal cube. They play with the counterweight between them as they try to reach it, forever a step too far away.
Borderline revolves around a subtle, and very clever, use of rigging. It allows the cast of six—three male dancers, two female and one rigger—to execute moves with an incredible sense of weightlessness. In a duet between two of the male dancers, it at first appears they are using their body weight alone to move through a series of complex balances.
Yet, as they pull against and rebound off each other with astounding suppleness and elasticity, you begin to realise that they must also be working with rigging. It's a masterful illusion and, because Ramirez and Wang do not always try to hide the wires, throughout Borderline you constantly question what is and what isn't there.
Sometimes, the effect is puppet-like, the dancers' limbs pulled in random directions as if controlled by an outside force which, in some respects, is exactly what is happening. The movement is choreographed to a fine-tuned balance between the dancers and the rigger and the interplay between them is fascinating to see.
Although Borderline uses wires, the choreography is rarely airborne. It remains rooted in the grounded movements of b-boying and contemporary dance, and the tension of this constant pull between flight and earth bound movement brings new possibilities to partner work and breaking.
As they spin, jump and flip, the dancers seemingly resist the pull of gravity. It's gripping, exciting choreography and the dancers clearly have fun performing it. At one point, the female dancers jauntily enter in super high heels. Their awkward strutting, combined with the smooth, intricate choreography, is an amusing combination and their captivated audience laughs along with them.
The closing scene takes a more serious tone with a duet between Wang and Ramirez. It's the one moment where the choreography becomes airborne and the grace and fluidity of flight gives a romantic quality to their work. It's a somewhat abrupt end as Wang soars away into the blackness, but it's a credit to this company that you just don't want the show to end.
In fact, it's not quite the end. In true Breakin' Convention style, the curtain call culminates in a battle between the cast: a quick burst of individual skills met by cheers and applause from an enthusiastic audience. Borderline is an endlessly intriguing work, intelligent but fun—if you get a chance, go and see it.
Reviewer: Rachel Elderkin