Borders / Games
Henry Naylor
Arcola Theatre
–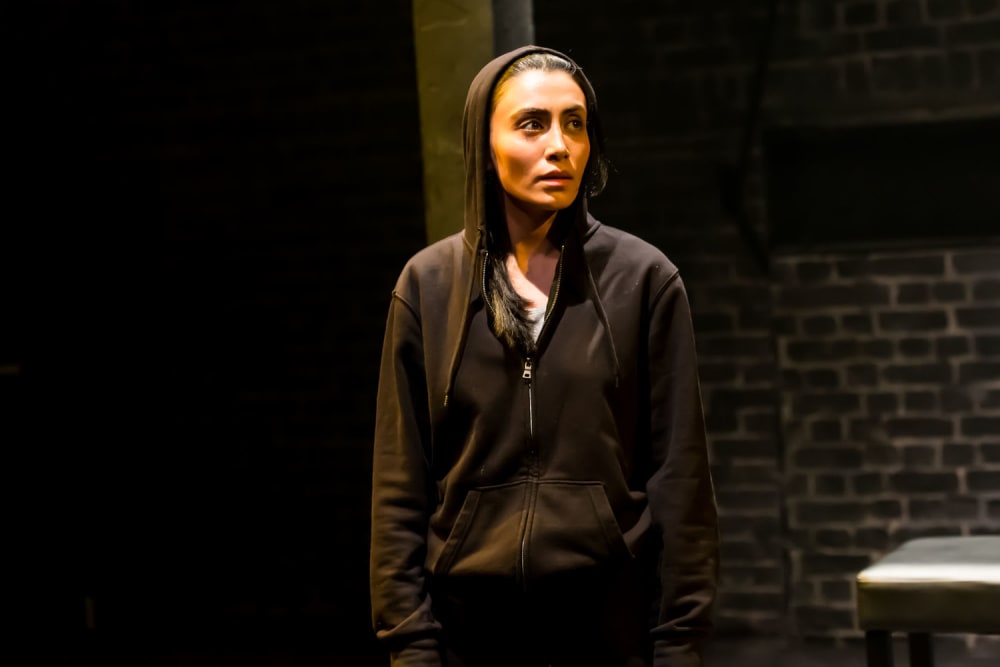 It takes guts to perform within spitting distance of an audience. Yet tonight proves that when language resonates like war poetry and actors capable of accessing deep wells of emotion fire out meaning with missile intensity, theatre is nothing short of transformative.
Borders is the first of tonight's two plays from Henry Naylor. Following its sell-out run in Edinburgh (2017), Naylor asks how we in the West comprehend conflict and disaster through the aperture of Western war photos.
It's Homs, Syria; Nameless is marred by the death of her father, a victim of the Assad regime. By the time of the anti-Assad uprising of 2011, she is in her twenties, an artist channelling her anger at the regime through the political graffiti she sprays at night on the disintegrating, war-torn city walls.
Nameless appears shrouded in her hoodie, but once she shrugs it off, revealing at once fear and hate-all haunted eyes and dramatic cheekbones, I am hooked. Moving from young, frightened girl to empowered women then tragic figure with outstretched arms, Deniz Arixenas transforms with the elegance of a leopard on the run.
In brutal contrast, failed war photographer Graham O'Mara's brilliantly etched Sebastian lightens the mood as he skips through life moving up the ladder, snapping celebrities to make a quick buck until his conscience is pricked by a former war correspondent friend offering one final assignment and a chance to re-capture the fame of his first career-defining photo, "Bin Laden on a black horse, in cream robes".
Naylor's writing shoots fast like gun pellets flying. Both characters breathe life into single words delivered in rapacious, breathless speed, spewing words out with such urgency and helplessness it's at once funny and heartbreaking. "Must fight... roaring, biting, tearing, fighting ripping clawing, mauling, burning, elbow," cries Nameless in a plea for help.
Louise Skaaning's nimble direction lends credence to both stories, investing her characters in such microscopic details that each world looms large, despite such tight proximity at the Arcola. Even more remarkable given that they never physically touch or interact directly with one another.
While the lighting from Vasilis Apostolates, a spotlight shining on each, separating the action between the two, is a clever dramatic device to create depth in what is essentially a two-hander. When one speaks, the other is shrouded in darkness.
Next up is Games, the second play of the night, set in a different era but similar issues are tragically present. Events leading up to the 1936 'Nazi Olympics' are used as a platform to expose issues of nation, racism, hate and anti-Semitism through voices of two world-class Jewish athletes, Helen Mayer and Gretel Bergmann, both forced to face horrific prejudice in their bid to compete for their country in the 1936 Olympics.
Sophie Shad as Helene Mayer is totally believable. A vision in white, dressed head to toe in fencing garb, she is an angel with steel wings, blond and blue eyes thrusting her way through her game, personifying the Nazi ideal of a great female sportswoman, except for the fact that her father is Jewish. Despite her protestations that politics means nothing—she is a sportswoman first and foremost—the Nazis see her only as a Jew.
Meanwhile, Bergmann, played with convincing outrage and ambition by Tessie Orange-Turner, understands the fight can only ever be political, most powerfully exposed in the scene where she executes record-breaking high jumps in June 1936, Stuttgart. Though Bergmann is victorious, the Nazis prevent her from taking part in the Berlin Games because of her Jewish identity.
As with Borders, the two competitive sportswomen expose tales of hatred through convincing physical personifications both of their sports and emotional distress. Tonight, tragedy spills out across the stage and into our laps with such topical relevance, despite the distance of space and time between the two histories covered in both plays.
I'm feeling teary for the best part of two hours, but drama is balanced so clearly alongside genuinely humane moments that it's bearable to watch, despite such parting sadness in both pieces. Brave, brilliant and moving.
Reviewer: Rachel Nouchi