Boris Godunov
Modest Mussorgsky, Libretto based on play by Alexander Pushkin
Met Opera on Demand
Metropolitan Opera House, New York
From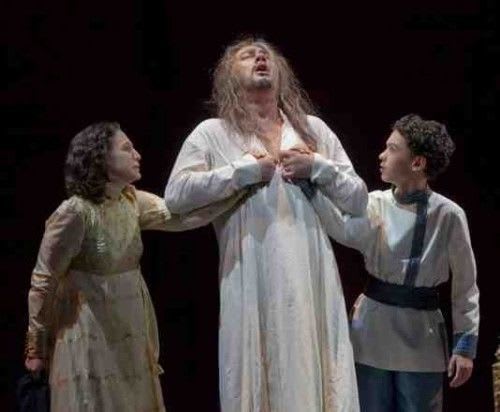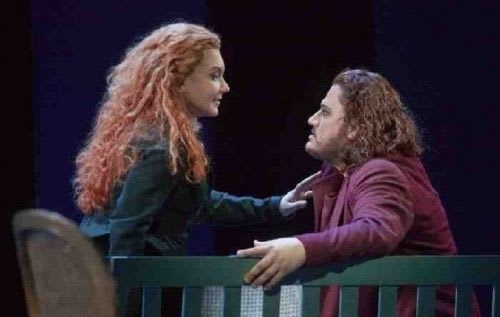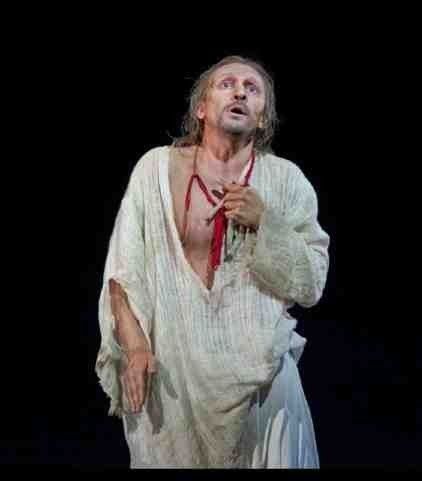 Modest Mussorgsky (1839–1881), by far the most original and modern of 19th century composers, wanted to express the Russian people. "I should like," he wrote, "to make my characters speak on stage exactly as they do in real life without exaggeration or distortion."
Boris Godunov premièred in 1874. The opera is a panoramic series of bleak, disconnected pageants, an epic chronicle (1598–1605), featuring czar, boyar, priest and peasant.
The libretto is based on Alexander Pushkin's tragedy in blank verse, inspired by Shakespeare, written in 1825 and published in 1830, when it ran into trouble with the censor on account of its political and religious content.
Stephen Wadsworth's production, conducted by Valery Gergiev, opened at The Met in New York in 2010 with René Pape, excellent in the leading role, vocally, physically and facially.
A major visual feature is a Brobdingnagian-sized history book of the Russian people which lies open on the floor throughout the performance. It is read, written, trampled and finally destroyed.
Boris murdered Dimitri, a 7-year-old, the rightful heir, to get the throne. His soul is deeply troubled. His conscience is tortured. He is haunted by terrible dreams. He is guilt-ridden. He wants to do well by his people, but the nation suffers fire and disease for which he is blamed. He has long and heartfelt monologues and gradually descends into madness.
Mikhail Petrenko is the elderly monk who chronicles history. Aleksandrs Antonenko is the young monk turned pretender to the throne. Ekaterina Semenchuk is his sexy lover, who puts her ambition for power and throne high above love. Evgeny Nikitin is the evil priest who eggs her on.
A key figure is the Holy Fool, a simpleton and epileptic, a prophet of doom (admirably acted by Andrey Popov) who refuses to bless Boris and publicly exposes him as a murderer. At one point, he wraps himself up, tramp-like, within the pages of the giant history book.
Audiences may feel that Boris is off-stage for too much of the time and that the final image should be his death. But from Mussorgsky's perspective, the real protagonist is the Russian people, an oppressed and starving nation, turning into a mob. At The Met, there is a chorus of over 200 sufferers and weepers. The opera ends with a Peasant Revolt, a brutal climax, a bloodbath of torture and execution, which is truly shocking.
The Holy Fool has the last word: "flow bitter tears."
There are a number of ways of tapping into this opera and others at will. The Met Opera on Demand service offers annual ($149.99) and monthly ($14.99) subscriptions as well as a one-off payment ($4.99) for those who have limited time or only want to watch the occasional opera.
Reviewer: Robert Tanitch