Born In the Gardens
Peter Nichols
Rose, Kingston upon Thames
(2008)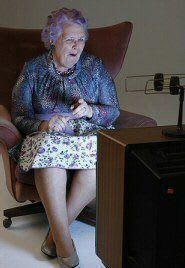 Although this revival by Stephen Unwin for the Peter Hall Company started life in posh Bath, at the snug Theatre Royal, the play itself is firmly based just up the road in Bristol where Alfred the gorilla lived a long and caged life in the zoological gardens, happily chucking his turds at gawping visitors.
That just about sums up Nichols' uneventful plot. Maurice, Mo to his friends, lives a caged life with Maud, his dotty mum, in a large mock-Tudor house that for Nichols, writing in 1980, was a symbol of all that was essentially English.
Mo enjoys playing his drum-kit to his shellac recordings of New Orleans jazz and earning a living selling dirty books to men in belted raincoats, while Maud talks to her friends on her black and white television, flickering figures of influence who luckily cannot answer back because Mo has turned the sound right down.
At the start of the play we get a few bars of a Sidney Bechet funeral march as we spot Maud's late hubby lying in an open coffin surrounded by wreaths waiting his burial rites.
Meanwhile Mo's brother Hedley, a Labour backbencher with a pseudo posh accent and a pocketful of money-making plans, has come down from Westminster for the funeral, along with Mo's twin sister Queenie who, having made it big in California, still yearns for an incestuous kiss and cuddle with her brother Mo.
Who wins? We now know that Thatcherite monetarism and 'greed is good' principles will change the face of Britain, perhaps forever. But Nichols has Mo and Maud returning to their old ways, the best ways, while the family intruders, the outsiders, retreat with an earful of dung to send them on their unhappy way.
The problem for the transfer to the Rose Theatre is that the original play — light on plot and action, big on talk — as well as Stephen Unwin's revival production, were built for an intimate space. But the Kingston auditorium, shaped on Jacobethan lines, cries out for spectacular stagings of Greek tragedy, Shakespeare histories, musicals and operatic performances.
Seated in the right hand quarter of the theatre one watches the backs of the heads of the actors for much of the time while the acoustic (excellent for centrally placed audience members) is muddied by an echo effect.
Minutes into the performance I gave up trying to follow the Bristolian dialogue and concentrated on the acting performances — luckily recalling the play from its original West End staging in 1980 — while noting that those who had hired a Sennheiser hearing-aid device soon stopped using them because poor amplification makes them inadequate. This latter issue needs to be addressed urgently.
Star of the show is Allan Corduner, master of comedy timing, whose performance, even with his clipped Bristol delivery, deserves a big round of applause for his stolid stance and irresistible wit. Working with Mike Leigh he has steadily become one of our best and most watchable actors in the business.
Simon Shepherd as Hedley and Miranda Foster as Queenie certainly deserve their places as elegant replacements for Peter Bowles and Jan Waters, the original Bristol absentees, who have returned home to make a few points about their place in the world. And anyone who loves to see fashion in action on stage will marvel at this gorgeous actress in her superbly cut little black dress (design Mark Bouman) which makes for a stunning eyeful for all fashion celebrants throughout the second half.
And so to Stephanie Cole, taking over the role of Maud originally created by Beryl Reid. Reid, who came straight to the role from her divine RSC portrayal of Mrs Malaprop, was always loopiness personified, an oddball whose every line could win loud laughter of affection for her endearing portrayal.
Cole is big in every sense, a stage presence that oozes sentience. There is never a moment when one accepts her as the witless old mum of the play. Her Maud is instead exasperated by the modern world, confrontational, angry even. But this is not the Maud that Nichols wrote and while she garners some of the best laughs of the evening it is a matter of acting technique rather than ideal casting,
At the end of the performance Stephen Unwin dashed on to make a plea for the audience to offer its hard-earned cash to keep the Rose Theatre in business. But as Coward so neatly put it: how can one make it clear that this is not a good idea?
Unwin may be obsessed by his job as Hall's surrogate supremo at the Rose, but the audience will be aware of the problems of poor sightlines and audibility, and it would really be better to offer his begging bowl to the Arts Council. In any case the Rose is not 'unfunded' as he claims. The leaflet which supports his appeal talks of "minimal public funding" and he should be careful to mention that the Rose is only there because the arts-loving Kingston borough council saw the value of supporting it.
I could not help noticing that Hall as Bath producer and Nichols as author, both lending their stoic personal support on press night, offered not one tittle of laughter to the stage performance which may confirm my view that this is an intimate domestic comedy in a venue ideal for bolder strokes.
This production was reviewed by Allison Vale at Bath and by Sheila Connor in Guildford
Reviewer: John Thaxter