The Borrowers
Mary Norton, adapted by Charles Way
The Nuffield Theatre, Southampton
(2011)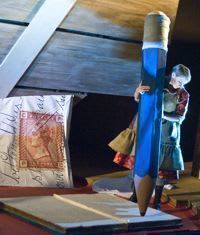 The Nuffield Theatre's warm -hearted adaption of Mary Norton's classic tale The Borrowers is a little gem because quite literally the characters are tiny people who live under the floorboards behind the grandfather clock in a large country house.
The Clock family are 'borrowers': they own nothing but borrow items from the 'human beans' such as a thimble for a seat to make their lives a little more comfortable.
Fabrice Serafino's superb set design is pure magic that juxtaposes life under the floorboards, created by a raised platform and huge props, and life in the house.
When the borrowers are in the human world, the adults are created by a gigantic pair of legs hanging from the flies and when they interact with the normal size actors the Clock family appear as small puppets.
Very ingenious and it caused gasps and knowing laughter from the capacity audience.
All is not well; Pod (David Alcock) has been 'seen' by the new boy (Oliver Hoare) who has recently arrived from India to recuperate from rheumatic fever, much to the annoyance of the cantankerous cook, the buoyant Nicola Blackman.
The excellent Julia Hills perfectly captured the anxieties and fussiness of Homily, and her daughter played by Eleanor Yates brought an innocent charm to the part of young Arrietty.
Matt Devereaux, as the gardener Crampfurl, brought much humour to his role and was a perfect foil to the rantings of Mrs Driver, the cook.
Arrietty persuades her father to take her on one of his borrowing expeditions and she encounters the boy, and so the adventure begins.
The inquisitiveness of the boy as he takes a screwdriver to prise up the floorboards is a coup de theatre and also brings havoc to the Borrowers, since their discovery necessitates them having to leave the house and search for their relatives and a new life.
They manage to escape to the fields and find a gigantic boot to live in. There is much audience participation as the little ones from the audience are brought up to the stage carrying dusters to help put a shine on the old boot.
There is excellent support from an army of children who play a variety of animals from mice and moths to insects and efficiently move props and are obviously thoroughly enjoying themselves.
The Clocks find refuge in a gypsy caravan and are befriended by a gypsy boy (James Laurence Hunter), and yes, there is a happy ending.
Directed with flair and confidence by Patrick Sandford, The Borrowers is a delightful alternative to the traditional pantomime and is truly captivating.
The Borrowers runs until 7 January
Reviewer: Robin Strapp