Boswell
Marie Kohler
Rhymes With Purple
PQA Venues @Riddle's Court
–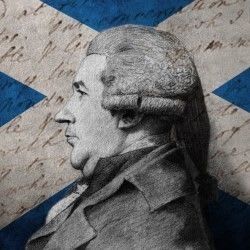 Rather boldly, American company Rhymes with Purple and writer Marie Kohler bring this little gem of a play about the great dictionary writer Dr Johnson and his friendship with his eventual biographer James Boswell to Boswell's home city—and it must be said they don't do a bad job.
The premise is that an American postgrad student in the 1950s, Joan Weinstein, comes to Scotland to research Dr Johnson but finds instead many journals by Boswell, who wrote extensively about his relationship with the great man and a journey they took together across the Highlands.
The two actors playing the main protagonists are excellent, as is the actress playing Joan who punctuates the action with narrative as well as following her own timeline as she pursues her passion to get the journals published. Unfortunately, the production's main problem is that it lacks dramatic tension, as the play is basically a series of conversations between the two main men and the piece is somewhat let down by the underwhelming supporting cast.
Nevertheless, the scenes between Boswell and Johnson are fun and both actors bring out most of the humour and a lot of the characters of both men and, as the play explores why they became friends and how their relationship grew in spite of Johnson's natural antipathy towards Scotland and her people, we get much insight into what made the two of them tick and bond.
An interesting, well-written piece that just needed a little more drama to really bring it to life.
Reviewer: Suzanne Hawkes