Boy Ant
Myles Wheeler
Myles Wheeler
Fringe Online
–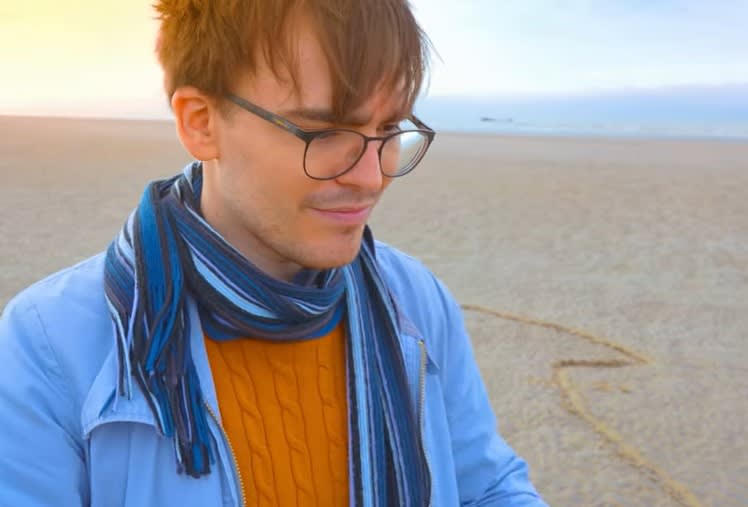 There's a winning, insinuating quality to Myles Wheeler's amusing and emotional one-hour stream of consciousness, filmed and confidently presented as a single take.
Wheeler, fetchingly dressed in blue and gold to match the beach and seascape behind him, draws on nine years' experience since he was a hospital radio presenter to construct a riveting programme that rolls around between the casual and the profound.
There's a bit of the old look-at-me as he stretches out what sound like an old routine about Hamilton, the rat (not rap) musical as his mother mistakenly calls it, but the piece gets into its stride as he stirs the pot of thought association, as if such ideas come spontaneously to mind.
"God moves in mysterious ways," a fellow hospital visitor tells him, which prompts the idea that lava lamps move in mysterious ways. And his wry observation prompts this response to a Jehovah's Witness, calling at 4PM, asking whether he believes in God: "I'm still wearing my pyjamas. Does it look like it?"
After the early frippery, things get much more serious as Wheeler recalls his father suffering from Parkinson's disease, and the uncertain outcome of his operation and subsequent brain stimulation in hospital. We have moved from simple word play to something like poetry, and even if the faraway look is somewhat overdone, Wheeler's meditation on the different types of silences is truly affecting.
It's worth reading the comments attached below the video. His mum is not his only fan, rat joke clearly forgiven.
Reviewer: Colin Davison