Lost Boy
Book, music and lyrics by Phil Willmott, arrangements and additional music by Mark Collins
Presented by Steven M Levy and The Steam Industry in association with Neil McPherson for the Finborough Theatre
Finborough Theatre
–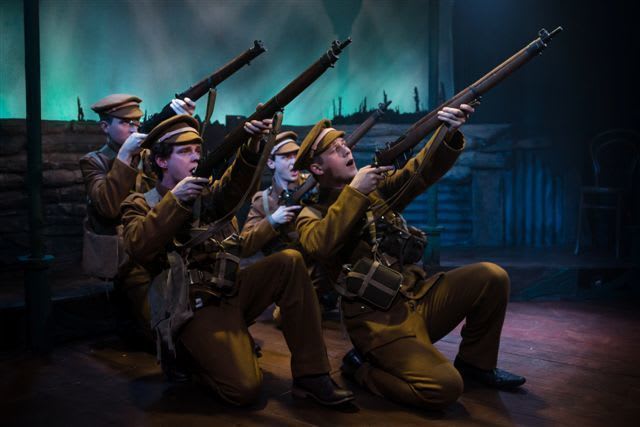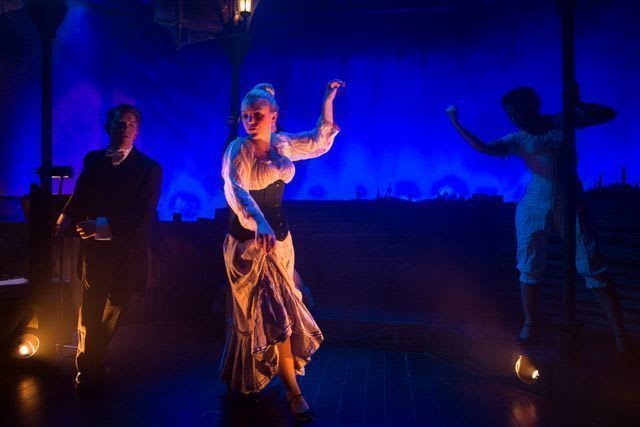 Only ten years after the première of J M Barrie's Peter Pan at the Duke of York's Theatre in 1904, many of those youngsters who had been its audience were in uniform on the Western Front, discovering for real whether to die really was "an awfully big adventure" as Pan had imagined it.
That sobering fact is at the root of prolific Phil Willmott's new musical which has opened at the Finborough before transferring to the Charing Cross Theatre for a five week season on 13 January.
In the trenches, Captain George Llewelyn Davies, the eldest of the brothers by whom Peter Pan was inspired and for whom it was written, is in command, toughening up a frightened squaddie and putting him on watch while he gets a nap. Asleep, George dreams himself as Peter, a Pan having to handle growing up, a dream in which he discovers the mores of British middle class society, ideas of work, money, courtship, sex and the realities of war as he joins the other already adult lost boys and Wendy.
It is an ambitious and complex work full of imaginative ideas that takes on a multitude of issues, at its heart, the way in which the egotistical gung-ho attitudes of Pan are reflected in the running of that disastrous awfully big adventure that was the First World War.
As well as real life and dream, which sometimes seem to fuse, there is a further framing layer with the excellent Andrew C Wadsworth as a questioning J M Barrie, who then reappears in the guise of Mr Darling and of Captain Hook, a manipulative magician in the dream who transforms into a British Field Marshal. Hook and Pan, General Davies (now promoted) and his commander, now on the same side, share the same ideology.
The rumble of guns in the background is a constant reminder of the serious theme but Willmott's social satire can be deliciously funny. Who else would have imagined Wendy, inspired by the devoted dog nursemaid Nana, following Peter to the front leading a Red Cross division staffed by Nana's puppies, made the youngest Darling brother Michael fall in love with an exotic trapeze artist and carry on flying through the air as his gay partner, John become a psychiatrist and a broken-hearted and still-jealous Tinkerbell an opium-addicted whore?
Lost Boy probably attempts a bit more than it can actually handle but the songs (especially when accompanied by Racky Plews's choreography) give it a lift without being particularly original and it is performed with energy and commitment by its hard-working cast.
Steven Butler (who has played the original Pan on other occasions) is a trouble-faced Peter still posturing arms akimbo as cock of the walk, Grace Gardner is his gracefully grown-up Wendy and Richard James-King the thoughtfully pacifist John Darling, while Joanna Woodward is a movingly distraught Tinker Bell and Joseph Taylor especially effective as Michael.
Philip Linley's set places an iron-arched arcade in front of sandbagged trenches and a view across no-man's landand looks splendid under Miguel Vicente's lighting, allowing multiple locations and space for a large cast to dance, and Willmott directs his own material.
This is a stimulating start to a year which will see the First World War often memorialised and sets a standard for other shows to match.
Reviewer: Howard Loxton