Boy Meets Boy
Book by Bill Solly and Donald Ward, music and lyrics by Bill Solly
Jermyn Street Theatre
–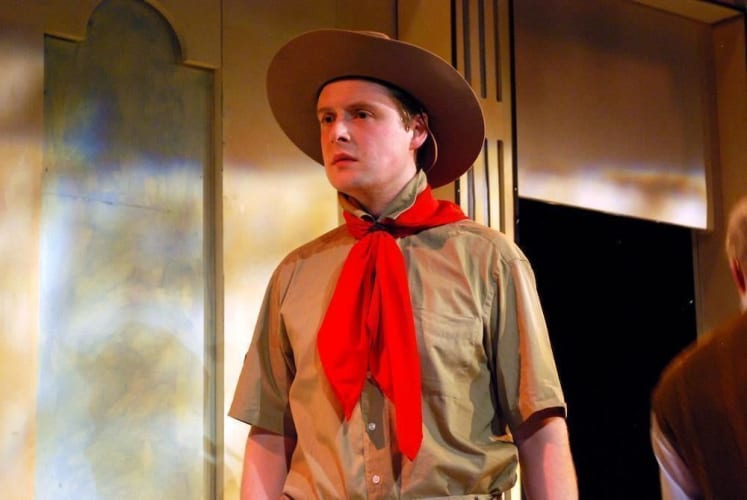 The British Government and the Anglican Church may only now be discussing gay marriage but this American musical from 1975 took it as given that gay marriage was already an acceptable phenomenon in Britain and America years before that.
It is 1936 in London, the night of the abdication, but American newshound Casey O'Brien was hosting a party at the Savoy and now he has passed out drunk in room 203 and has missed out to his rivals. They have already moved on to a fashionable marriage between gay double grooms Boston millionaire Clarence Cutler and hard-up English aristocrat Guy Rose, who fails to turn up at the church.
Casey is determined to sniff out his story. He sets out to track down what he believes is this breathtakingly beautiful boy and get the story. What he does not realise it that this English Rose (yes that's a number) is actually the drunk guy in spectacles whom he has already pulled out from under his bed.
It is an intriguing twist to a high society Fred and Ginger type comedy which you could call pastiche if it didn't such a character of its own—and among the thirties-style numbers there are not only the romantic duets, songs of heartbreak and clever comedy numbers like the millionaire's ego fest "Me", but even a song for what become the lovebirds that celebrates the boy scouts and their badges ("It's a Boy's Life").
With a light-hearted lilt and a plot with a strong dose of not so much misidentification as refusal to believe what you are told, this is a musical that restores the original meaning to gay while celebrating the more recent one as it travels from the Savoy to the Dorchester and over to the Folies in Paris complete with a feather-fan flourishing nude—a male one.
It is cleverly shoe-horned into the theatre with art deco style by designer Alice Walkling and space doesn't seem to limit the amusingly camp choreography of Lee Proud, which is snazzlly executed by an ensemble bright with knowing smiles.
Clarence may be the villain but Ben Cavanagh makes him one you love watching. Stephen Ashfield gives Casey an endearing honesty, beautifully partnering Craig Fletcher's English innocent Guy, caught in the predicament of finding a way to live up to the description of the fellow Casey is looking for.
There is smooth support from Johnjo Flynn as Casey's English friend Andrew, while Ann Nicholas plays both Guy's mother and his raunchy Folies star Aunt Josephine. The delightful thrties-influenced music is in the capable hands of musical director Stefan Bednarczyk who discovered a record of the original production in New York back in 1985 and has been determined to get it on here ever since.
Of course, you could just dismiss this as escapist nonsense but that doesn't stop it from being a treat and it's total equalising of gender—set in this London of so long ago does make one wonder how much happier several generations might have been if it had been true and how far we still have to go.
After a tenure that has embraced Beckett and Ibsen revivals as well as much new work, this seasonal bonne bouche, another British première, is a sparkling, if somewhat surprising, swansong for its director. It is Gene David Kirk's final production as this theatre's artistic director for he moves on to new pastures at the end of the year.
Reviewer: Howard Loxton