The Boy James
Alexander Wright
Belt Up Theatre
Southwark Playhouse
(2011)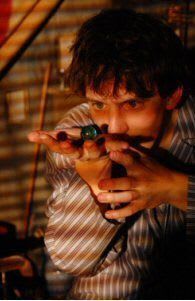 This hour long look at the man who has to leave his Peter Pan self behind, or more specifically as the boy who wants to put off that moment, is obviously influenced by J M Barrie but it is not a biographical piece. It is rather a dramatisation of the refusal to grow up, an exploration of the childhood mind set against adult awareness and the painful discoveries that come at puberty.
Opening up another of the vaults beneath London Bridge Station, director Dominic J. Allen has created a room that is like an ordinary room yet not, there is a fireplace with a clock and pictures on the mantlepiece, a desk, piles of books and picture frames on the walls but they hold not paintings or photographs but what may be sheets of manuscript and the walls themselves seem partly made of hangings that could be ship's sails ready to take off for distant if imaginary lands.
The space is lined with sofas, easy chairs and, in front of them, lots of cushions for the audience. The pyjama-clad Scottish boy who welcomes you, all high-pitched excitement, gets people to know their neighbours and soon has everyone involved in playing children's games until, sensing some special person or thing arriving, he climbs into a wardrobe and urges everyone to shut their eyes or hide their face.
What we are all going to ignore, of course, is manhood in the shape of the character the boy calls James, who begins to pack a suitcase ready to make his departure. Former playmate, accomplice, even leader, he is no longer able to join in childhood's fantasies.
James may be leaving for a world of adult responsibilities but that is not to say that the boy is irresponsible. His games and great adventures are innocent and no one gets hurt but a girl arrives (Lucy Farrett).who bonks James on the head. She claims that she thought James was going to hurt him. She has only knocked him out but she thinks violence and hurting people can be exciting and then attempts to introduce him to sex: the female in the biblical tradition of Eve as the instrument of corruption.
James leaves a letter for his childhood self (for surely these are aspects of the same person, and in most men the boy who won't grow up never completely disappears) but the boy has not yet learned to read. How do you think he gets its message?
This hour-long piece tells us nothing perhaps that we do not already know but it is performed with such sincerity by the James Wilkes as the gentle James and Jethro Compton who plays the high-spirited boy gives him such on open, juvenile naturalness that they totally engage you. The game playing goes on a little too long but without it the play would have to dig much deeper to sustain a performance long enough to satisfy an audience's entertainment expectations.
Run ends 28th January 2011
Reviewer: Howard Loxton