Brainville At Night
Alexander Moschos
First Draft
Old Red Lion, London
–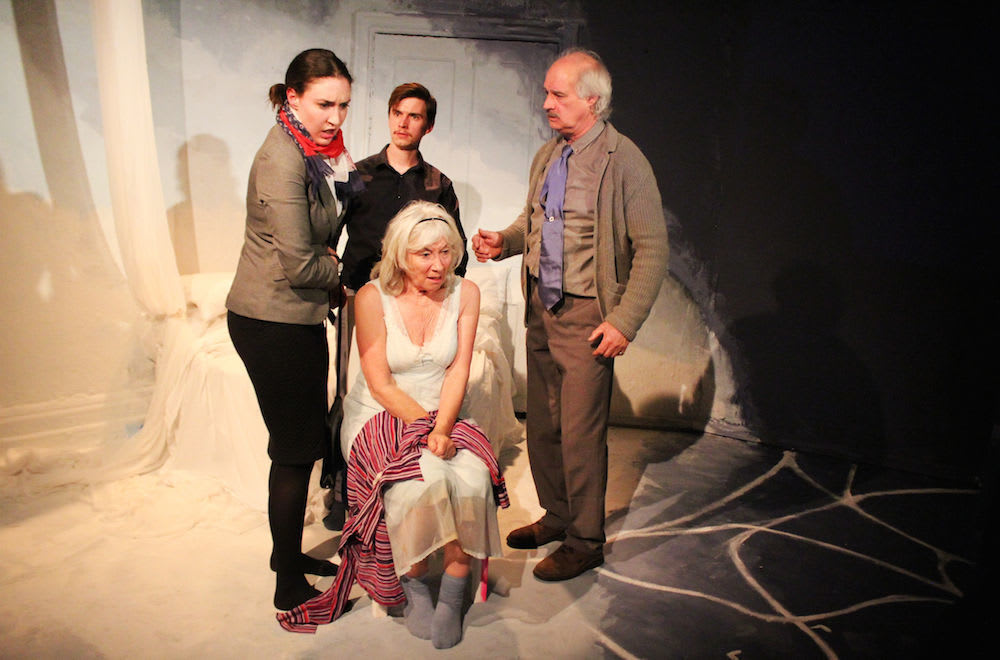 The subject matter is dementia. How would you cope if you knew you had the beginnings of dementia? How would you cope if the person you had loved for 45 years had full-blown dementia?
An old woman (convincingly acted by Illona Linthwaite) is behaving like an obstinate little girl, refusing to eat and do what she is told. Her husband (Robert Hickson) finds he is no longer living with the woman he married. 45 years of marriage have been wiped off the record.
Brainville at Night is a work in progress, first seen at Jack Studio Theatre in 2013, and the playwright is Alexander Moschos, who has been a carer and writes from experience. What he is trying to do is to record how the old woman behaves and how the family and her carers react to her while at the same time showing what is going on in her disordered mind.
The mind sequences don't always make sense. But that's the point: "Don't try to make sense of it!" advises one character.
The fantasy sequences, hi-jacked by the director, Matthew Parker, are sometimes difficult to follow and sometimes play like scenes out of a film noir. A man in a mackintosh (Eddie Usher who also plays a male nurse) may (or may not) remind you of the gunsel played by Elisha Cook Jr in the Humphrey Bogart movie The Maltese Falcon.
There is a very good scene, sad and funny, when people are trying to get the old woman ready to attend a service in a church which rings absolutely true. The fantasy sequences present problems as to how to stage them which haven't yet been solved.
Two of the actresses are far too loud for so small a venue as the Old Red Lion.
Reviewer: Robert Tanitch