Branwen's Starling
Adapted from The Mabinogion by Mark Ryan
Taking Flight Theatre Company
Tintern Abbey, Tintern, Monmouthshire, and touring
(2011)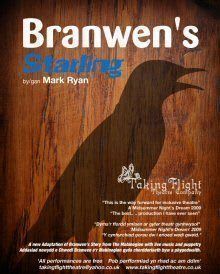 Cardiff's Taking Flight Theatre Company is an inclusive theatre company dedicated to staging beautifully crafted, accessible, outdoor touring productions. For their new tour, they commissioned playwright Mark Ryan to create this piece for family audiences, based on the Mabinogion's tale of Branwen, sister of Brân the Blessed, King of Britain.
The Mabinogion is a collection of Medieval Welsh folk stories, derived from pre-Christian Celtic mythology. Branwen's story is a rich seam, telling of her ill-fated marriage to Matholwch, King of Ireland, and the subsequent fury of Branwen's half-brother, Envissyen. The tale is typically medieval: in part dark, bloody yet filled with romance, magic and mystery. The challenge for Mark Ryan and the company was what to leave out.
Tragically, Mark Ryan died earlier this year, but his final play, Branwen's Starling, is an entirely fitting legacy. Staged for family audiences, Ryan has captured the magic of the story and, in collaboration with Taking Flight, has packed it full of humour, puppetry, music and mischief.
The company's trademark is their creative use of outdoor promenade. In this instance, the atmospheric ruins of Tintern Abbey provided the perfect backdrop and the audience weaved in and out of the ruined cloister walls as the tale transported them from royal courts of medieval Wales, across the Irish Sea and back again.
Neil Hancock's giant Brân, along with his other appearance as the fearsome foul-mouthed cook-come-midwife, Mrs O' Halligan, are highlights. Megan Brooks provides fun-packed BSL sign interpretation throughout, as the no-nonsense sea Captain, whipping the audience up with a stirring sea-shanty. Chloe Clark's self-obsessed, rich-girl, Branwen is a delight; time spent as a single-mum working in the castle kitchens soon sets her right. Anja Conti doubles as a love-struck Matholwch, who gets rather more than he bargained for, and the troublesome Envissyen. Both Conti's and Clark's beautiful voices do more than justice to Rowan Talbot's score.
Elise Davison's direction keeps the piece lively and well-paced, packed with Taking Flight's trade-mark fun, colour and song, making this a tour well worth catching. And as a bonus, Children in Need funding ensures that the production is free, although some venues may charge entrance.
Tours to Blaenavon Ironworks; Neath Abbey; Cilgerren Castle; Stackpole Centre, Pembroke; Stoke Mandeville Spinal Injury Unit; Kidwelly Castle; Valle Crucis Abbey; Flint Castle; Denbigh Castle; Rhuddlan Castle; Loggerheads Country Park, Mold; Plas Newydd, Llangollen; Amelia Farm Trust, Glamorgan; Insole Court, Cardiff. For full details see the website.
Reviewer: Allison Vale