Brasil Brasiliero
Claudio Segovia
Dell'Arte
Sadler's Wells Theatre
–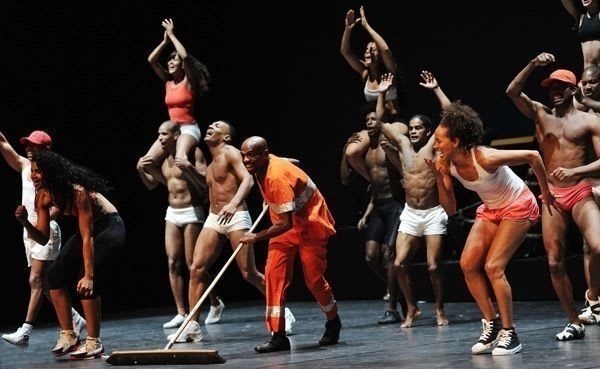 Brazil's football team may have lost but their dancers certainly score a hit with this celebration of samba and Brazilian rhythm. Which got a wildly enthusiastic welcome from its Sadler's Wells audience. It is a non-stop foot-tapping compilation of music, dance and capoeira. Actually foot-tapping is wrong, more waving the arms in the air and wanting to join in—if only one could dance as deftly as these guys.
From a rhythmic thud that is joined by the whole prone cast beating their hands on the ground as the lights slowly come up at the opening and ritualistically withdrawing from a tight circle this turns into a show in which everyone is having a party.
From the African origins of the batuque and the lundu to the bossa nova and sophisticated ballroom versions this is a catalogue of samba's constituents and variety danced with style and wit.
Dazzling white suits and frocks may suggest purity but there is a layer of frank sexuality in long shapely legs, swishing skirts and gleaming chests that range from bronzed Hispanic to African darkness, though with an emphasis on performance skill this show doesn't exploit the erotic. Instead, sly grins and wicked winks at the audience invite a jokey complicity in sending up the sinuous sexiness.
Whether individual dancers displaying gimmicky party tricks with a great sense of comedy, exotic partnering that would stand out on Strictly or synchronised ensembles, these dancers set each other the highest of standards.
The capoeira work of Baianinho Capoeira, Jean Lopes and Tiago Moreno is quite amazing, not only its acrobatic energy but its skilled interlocking of high speed movement between all three of them.
"Trambique", a percussion piece led by drummer Léo Mucuri with, it seemed, every dancer also playing a percussion instrument, was another stunning number while pairings like that of Wellington Lopes Jack and Robertinha in the Lambada add flourishes and lifts that make them top class while Renato Sorriso matched jokey camp cavorting with excellent serous dancing.
There is a great band but, for a show in a dance house, there are a tad too many numbers for singers Rose Barcellos and Nelson Félix with no dances or dancers. I found them disappointing in the context of the skill of the rest of the company; indeed, dancers Alan Niggas in a rap-like number and Veronica Bonfim in another lively number challenged them vocally and brought greater charisma.
This is a show with no scenic setting that concentrates attention on the dancers, aided by careful costuming and the lighting of Marcelo Cuervo. The effect is that you can't take your eyes off them, nor can you fail to respond to the rhythms of the music. It's a show that sends the audience home happy.
Reviewer: Howard Loxton