Brazil! Brazil!

The Udderbelly on the South Bank
(2010)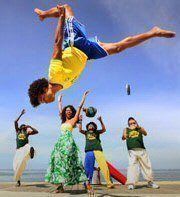 The Udderbelly is a huge inflated purple cow lying with its legs in the air between the London Eye and Hungerford Bridge. First seen at the Edinburgh Festival in 2006 and already seen grazing on the South Bank last summer it's a jockey concept that is let down by a rather depressing interior. This, plus a dark, badly-lit backing that I think represented favelas on a Rio hillside but could equally have been of that interior, didn't exactly lift the spirits.
This is a show that needs sunshine not gloom and it was hard work for these talented performers to get the audience into the carnival mood this entertainment needs. They do it through their own enthusiasm and what seems a genuine naivety, with little help from format or production, by getting the audience clapping in competing sections to match particular rhythms that leads into what could be described as an illustrated lecture on how Brazil has developed from a country of slaves to a proud nation of football champions.
Despite the football links in the publicity and the yellow and green shirts of the performers you don't have to be a World Cup fanatic to enjoy his show. Don't be put off by that word "lecture" either - the words are few and just an excuse to ostensibly link a sequence of lively song and dance and football that takes us from the basic 'ginga' rocking movement of the mixture of martial arts and dancing that is capoeira samba rhythms and a display of the amazing skills of Freestyle Football Champion Arthur Mansilla juggling a football around his body with surprising gracefulness.
There is almost non-stop support from a samba band of percussion, flute/sax and guitars with songs from two female soloists but it is the male dancers who make the show with their acrobatic virtuosity, performing multiple somersaults, back-flips and leaps that land within inches of the audience.
There is a hint of carnival in a wig of yellow and green flowers worn by the opening performer a gold hat and a couple of sequined shirts but the show never breaks out into that kind of exotic extravaganza but emphasises its own simplicity. Its performers delight the audience not just with their physical ability but with their unjaded freshness, seeming as surprised and delighted with their own achievement as are their spectators. At less than an hour it leaves one wanting more but the dancer acrobats have given their muscular all.
Continues until 18th July
Reviewer: Howard Loxton