Bread & Roses
Ian Kershaw
Oldham Coliseum Theatre
Oldham Coliseum Theatre
–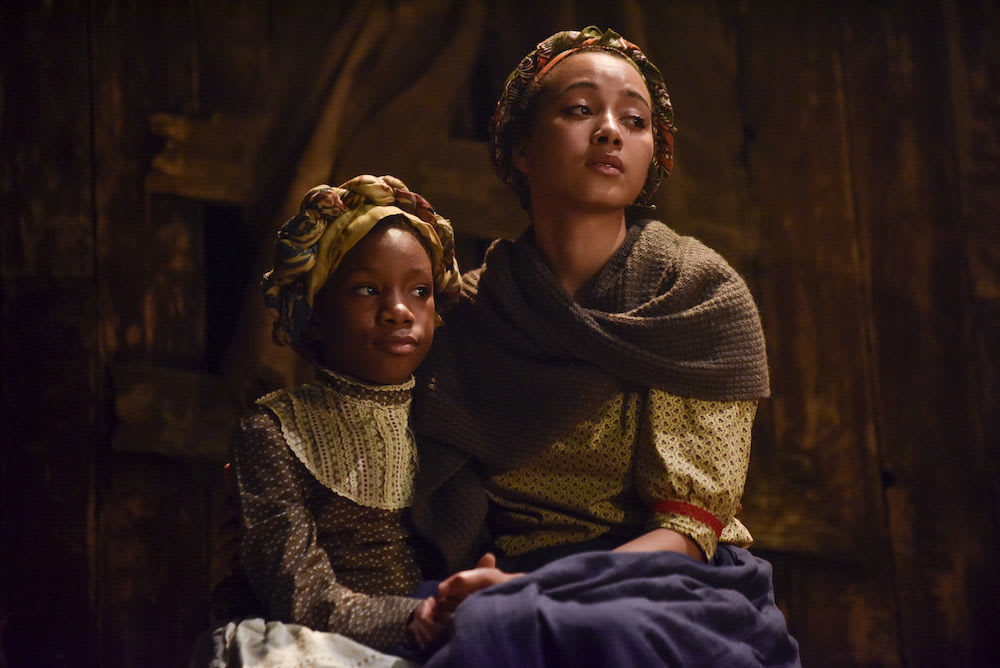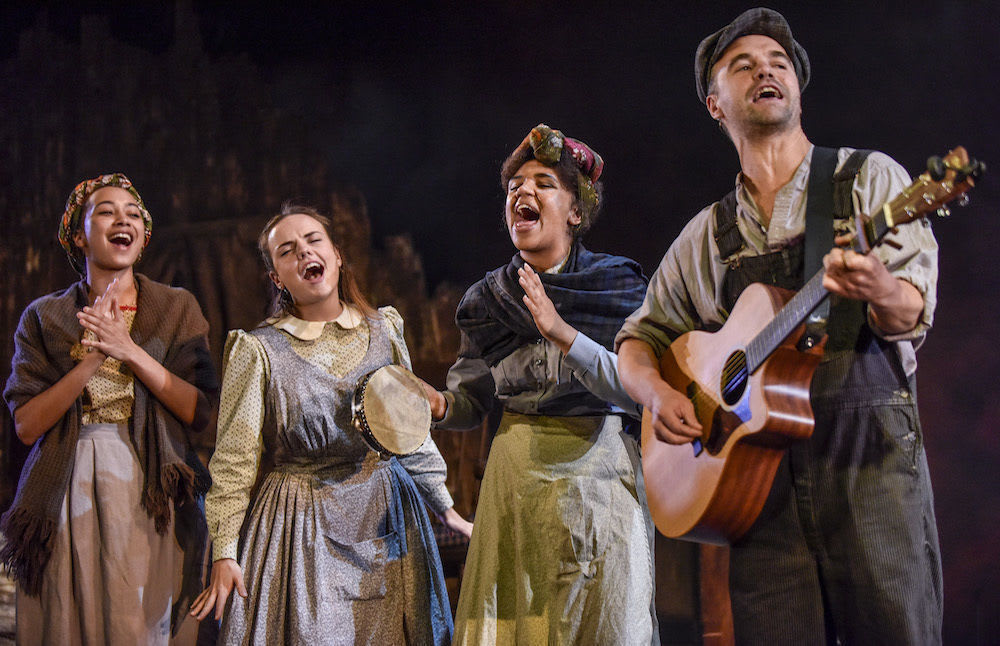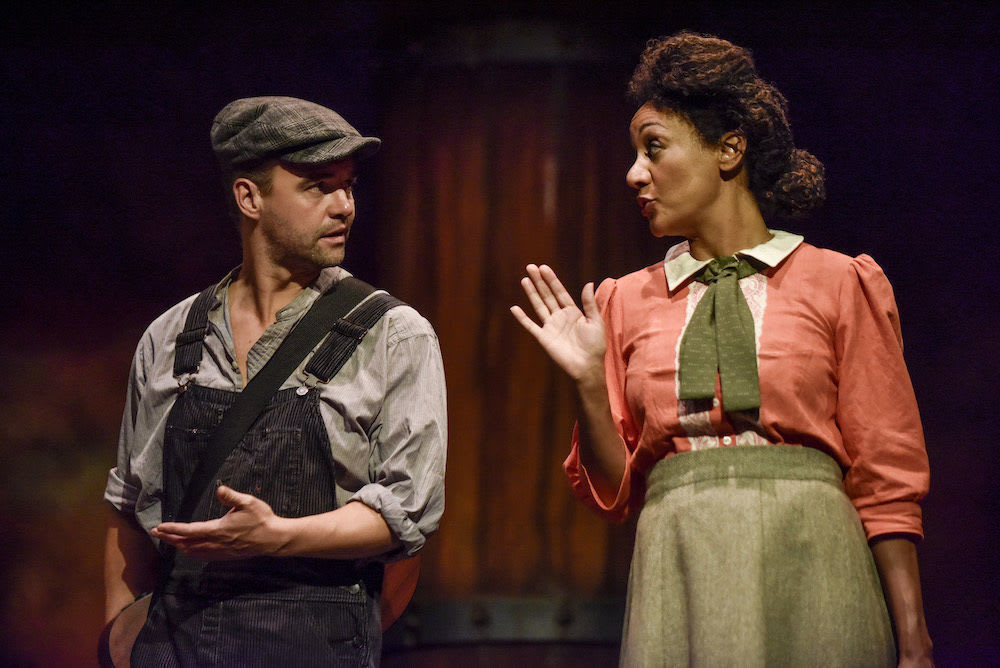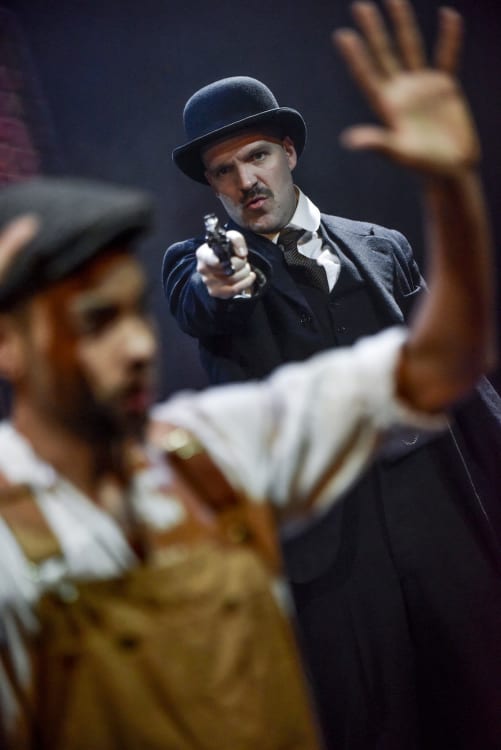 The Coliseum has thrown its weight and its money behind this fairly lavish production of a brand new play by local writer Ian Kershaw, set in Massachusetts in 1912 but with a setting and a central political issue which was once very familiar to the Lancashire region.
Kate Unwin's striking set of weathered timber, cotton bales and turning metal cogs against a red, smoky New England sky, beautifully lit by Stewart Bartles, instantly grabs the attention on entering the theatre. As the lights fade, the production opens with an impressive, full-cast a capella rendition of "Auld Lang Syne", which sets the musical standard very high from the outset.
This is actually an actor-musician production (musical director Howard Gray) but the actors are usually tucked away at the back somewhere when playing—and goodness knows where they've stashed the drummer. The period songs, many by singer-songwriter Joe Hill, are arranged for acoustic guitar, banjo, piano and drums and give just the right atmosphere.
Kershaw, in the programme, provides a very well-written statement of his intention to write a play "about the things that are going on right now—a state of the nation play", which the script doesn't entirely measure up to, but there are certainly strong parallels with modern issues—the moment when poor, desperate parents are separated from their children followed by a media outcry is chillingly up-to-the-minute.
The story begins with Lucy-Rose Atkins—a beautifully understated and natural performance from Emma Naomi—a black mill worker struggling to feed her daughter Ruby (Ayvea Byrd or Angel Igbinehi) from her meagre wage, when mill owner William Dukes (Matthew Ganley) responds to the legislation to reduce slightly the mill workers' hours by speeding up the machines and reducing their wages. Itinerant worker Cal Jackson begins 'courting' Lucy-Rose, but has also been bribed by Dukes to spy on his fellow workers.
Through the encouragement of local union activist Joe Ettor (Rupert Hill), Lucy-Rose becomes involved in direct action, forcing a strike, helped by flamboyant activist Elizabeth Gurley Flynn (Tupele Dorgu) who has come down from the north to champion their cause. However Dukes has the mayor, the police and the local newspaper editor under his thumb and enough stocks in the warehouse, it would seem, to starve his workers back to work.
The story of the passive mill worker's rise to cleverly scheming union activist is convincingly told, an interesting story of real events that aren't well-known here in the UK. Some of the other characters come across more as modern characters sent back to 1912, and there is rather too much talk in many scenes. Why does Dukes stand around debating in the street over things of which he has no need to convince them—he's a bully, not a politician, who gets what he wants through force, not persuasion.
There are a few other points that don't quite convince, such as why Dukes persuades the Mayor to bring in a law to let him arrest Lucy-Rose for standing in a picket line when she has admitted to causing deliberate damage to the factory machinery, which is surely a criminal act. Perhaps this is historically accurate, but it still leaves some questions unanswered.
If the script can get a little wordy at times, Amanda Huxtable's production brings a visual splendour to it, with the 8 adult and 1 child regular cast members supplemented by a community chorus to fill out the stage picture effectively.
So while I have some reservations, overall it is an entertaining piece of theatre telling an unfamiliar story with some contemporary resonances that is certainly worth hearing.
Reviewer: David Chadderton