Break of Noon
Paul Claudel
Exchange Theatre in association with Neil McPherson for the Finborough Theatre
Finborough Theatre
–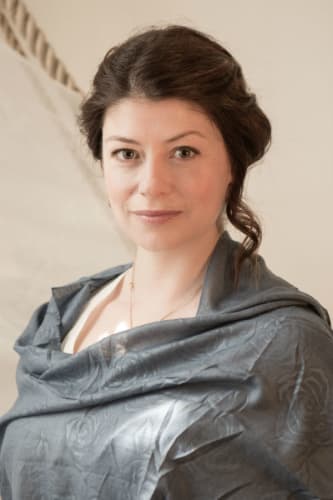 Sometimes you have to marvel at an actor's ability to remember their lines. It must have been a task simply making sense of Paul Claudel's play Break of Noon, never mind working out how to speak the lines of his overheated melodrama.
The plot is straightforward enough. Three men on a ship to China take turns in declaring love to Yse (Elizabeth Boag) who reciprocates out of boredom and insecurity. Occasionally, they take a break to worry about God. Later, they continue similar conversations in a graveyard and then in a building during a revolution by people described as "yellow bodies swarming together like maggots".
I expect the revolutionaries, tired of the strange dialogue, were determined to put an end to it for the sake of humanity.
Yse's husband de Ciz (David Durham) of ten years is trading guns and drugs. Her former lover Amalric (Connor Williams) is an arrogant plantation owner and Mesa (Matt Lim), the customs official, is an intense, naïve young man with whom she has an affair in the cemetery.
Translated from the French into a Martian version of English, the play could do with surtitles. Sentences are often long and convoluted, as if words have been randomly plucked from the dictionary during a drunken writing spree.
Even those with a kind of meaning sound decidedly odd. Would anyone really use the chat-up line of saying to a woman, "you are a great ship," or ask "can you feel me in your entrails"?
And what makes a supposedly sane character announce that "the cats and dogs will fart through the roof"?
The cast try hard to cope with what they must know is nonsense. Connor Williams as Amalric delivers everything with an assertive confidence as if defying us to challenge him.
But there is, at moments, the look of the unjustly sentenced prisoner on the face of David Durham as he perhaps wonders what crime he had ever committed to deserve the lines he had been given to utter.
The writers attempt at a spiritual, unrhymed poem should have been left on the page rather than pitched as a play. As it is, the actors are probably hoping they don't accidentally start quoting it beyond the theatre for fear they will be carted off to an institution for treatment.
Reviewer: Keith Mckenna