Breakfast At Tiffany's
Richard Greenberg
Curve Theatre
Sheffield Lyceum
–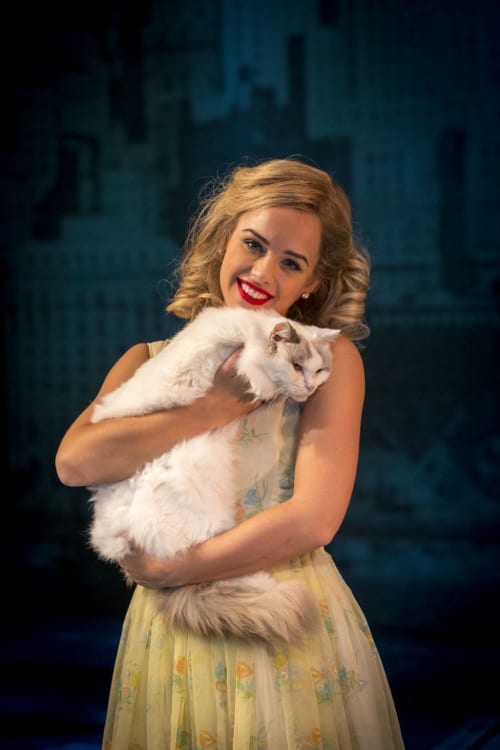 Truman Copote's novella, written in 1958, reflects his humble beginnings and troubled youth as well as his determination to succeed as a writer and fascination with New York high life.
The story was popularised internationally by the highly successful 1961 film starring Audrey Hepburn and George Peppard, which was "loosely based" on the novella and presented as a romantic comedy, sanitised of elements that might offend a polite audience or sully Hepburn's reputation as a doe-eyed innocent. Surely she was too gentile to be a call girl.
Richard Greenburg's adaptation, presented by Curve, allows no such ambiguity. Holly Golightly, performed by Georgia May Foote, entertains a succession of men in her shabby flat and, although she retains a patina of innocence, this is superficial and her main objective is to get a rich man by any means possible.
Greenburg's adaptation is clunky and over-wordy and, particularly in the opening scenes between Fred (Matt Barber), Victor McGuire as barman Joe Bell and Foote when she appears, the American accent is often impenetrable because it is pushed out at full volume, presumably to be audible at the back of the theatre, but sadly sacrificing clarity and variety of inflection. Words are often lost which then makes the plot incomprehensible.
Ironically, two actors in much smaller parts, Robert Calvert as Holly's husband Doc and Melanie La Barrie as Mme La Barrie / Stern Lady Boss, project their voices more effectively in a quieter register while retaining the American accent and more subtle characterisation.
There are issues in this play of considerable contemporary relevance given the current concern with young girls from disadvantaged backgrounds, desperate for affection and longing for a more glamorous lifestyle, who are sexualised by predators and exploited as prostitutes.
Although Holly chooses her own pathway, the brittle exterior barely conceals her needs and longings and she is manipulated by the men who surround her, notably the mobster Sally Tomato who gets her to carry messages from Sing Sing.
The adaptation and the production falls between a much harder take on the exploitation, which would be currently more meaningful, and the much softer and romanticised approach in the film, where Hepburn's vulnerability is never in doubt and the relationship with Peppard genuinely sympathetic. In this production, there are layers of complexity missing.
Matthew Wright's set provides an excellent, convincingly period bar and flats that drop in to represent the various rooms in the lodging house. Furniture slides on and off speedily and efficiently and helps the action to move swiftly forward.
The play is advertised as a stage play with music, but generally the music is played at such a low level that it is more like a background irritant rather than a mood creator. Foote's two songs seem to have strayed from a musical of the same name and are uncomfortably out of place.
Bob the cat gives a stunning performance. Like most of the audience no doubt, I wondered what training and inducements had led to his perfect timing and immaculate stage presence. No wonder he has so many credits in the programme.
Reviewer: Velda Harris