Breakfast with Emma
Fay Weldon, based on the novel Madame Bovary by Gustav Flaubert
The Rosemary Branch Theatre in association with Tennison's Quirk
The Hawth, Crawley, and touring
(2010)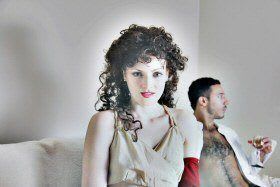 Taking as its theme a simple imaginary breakfast between Flaubert's Emma Bovary and her husband Charles, Breakfast with Emma expands to cover almost all the episodes in Emma's complicated emotional life, explaining, to some extent, how she came to be this tortured creature constantly mistaking lust for love and now on the verge of suicide.
James Perkins' set is simple - fireplace, dresser, chest of drawers, table and chairs, solid and staunchly rustic as befits the home of a country doctor - but it is from these furnishing that the story of Emma's life unfolds, the characters appearing and disappearing through them, at one instance even crawling (rather appropriately) from underneath her crinoline; episodes in her life coming back to haunt her.
The Hawth's large and not completely filled auditorium with its rather noisy creaking floorboards was not, perhaps, the best venue for this intimate voyage into the lives of a couple at breakfast and at first it was a little difficult to distinguish the content of the dialogue, not helped by the dialect of the maid and the fact that those at the table were eating, but this soon settled down and, from the entrance of James Hayward's draper (hoping for payment of his outstanding bill) with his beautifully clear enunciation unencumbered by food, the play had the audience's rapt attention.
Cosy domesticity at the beginning shows staid, unexciting Charles (excellently depicted by James Burton as his mood changes from happiness to suspicion, anger and despair) indulging his beautiful young wife's capricious nature and her extravagance, but it's obvious that there will be trouble ahead and Irving Berlin's song seems to fit the situation perfectly. "While there's moonlight and music and love and romance, let's face the music and dance" and the "teardrops to shed" are not long in coming.
Three of the five-strong cast take on several characters. Georgina Panton plays maid Felicite with a cheeky, resigned acceptance of the worsening situation between her employers, and also makes a plausible mother-in-law constantly snuffing the candles as Emma lights them while deploring her extravagance, while Jason Eddy plays all her lovers with a heartless panache, the final scene of act one causing gasps and then laughter from the audience as the famous 'ride' in the carriage is enacted. This on its own could have resulted in the original novel being regarded as scandalous, especially perhaps as Flaubert had taken the content from a newspaper report of a provincial doctor's wife taking poison after engaging in several adulterous affairs.
As the play progresses, cosy domesticity changes to accusations and fierce arguments and director Helen Tennison keeps the pace moving swiftly from breakfast room to ballroom and carriage ride, with a side trip to the Agricultural Fair giving opportunities for sounds of rather comical animal activity. Ben Davies' very beautiful music underscores the whole. Helen Millar has the most extensive dialogue as well as a vast range of emotions to convey, and comunicates the spirit of a very confusing Emma very impressively.
The tale is a little more long drawn out than I appreciated and sometimes very repetitive, but on the whole enjoyable, engrossing and extremely well performed.
Touring to Maltings St. Albans, Arc Wiltshire, Barnfield Exeter, Norden Farm Centre for the Arts Maidenhead, and The Rondo Bath.
Reviewer: Sheila Connor