Breathless
Laura Horton
Theatre Royal Plymouth
The Drum, Theatre Royal Plymouth
–

Listing details and ticket info...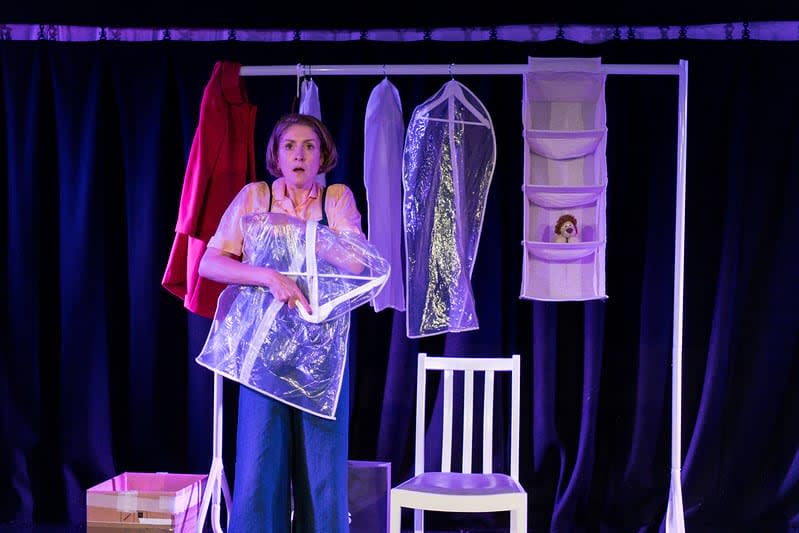 Plymouth's Laureate of Word 2021–22, Laura Horton, tackles the difficult issue of hoarding in a refreshingly honest and a most engaging 65-minutes which collected a Fringe First award in Edinburgh this year.
Recently classed by WHO as a mental illness with connections to OCD, hoarding, explains Horton, is not always the image we see on TV of teetering masses of boxes and newspapers, carrier bags and garbage. Her protagonist, would-be writer Sophie (Madi Macmahon), just loves a bargain: sample sales and charity shops; the anticipation of the hunt; the delight of the discount; the joy of ownership regardless of whether the designer creations fit or suit. And then there is the shame of a suffocatingly huge amount of beautiful unworn clothes crammed into Sophie's living space.
Every purchase feeds an image she has of herself as she hurtles towards 40 with no real sense of identity or direction.
But as good as she is at holding on to things, she hasn't had much luck in love. The large-handed tree surgeon's anti-climatic fling with her best friend, the angry Naval guy and the avant garde self-professed mime artist who made his own socks are things of the past and so Sophie dares to admit that it is time to accept her bisexuality and date a woman.
And so minimalist Jo enters her life, a perfect match in (almost) every way but fatally suspicious of Sophie's Herculean efforts to stop her entering the flat as the two worlds collide with percussive results.
Based on her own experience, Horton's beautiful script weaves Sophie's building obsession and life story with the burgeoning love with Jo, whose wardrobe consists of an old school tie, three pairs of shoes (and one on we assume) and the bare minimum of clothing on one short rail.
Macmahon morphs from character to character smoothly in the single-hander with just Holly Harbottle's subtle sound design—breathlessness, crackling fire, wowing and more—in support, while moveable clothes rails, chair, coat hangers and a few items in a box are cleverly all that are needed en route to Sophie's downfall, redemption and anticipated future.
Warm, funny, occasionally crude, uncomfortable for those of us with an eBay / charity shop habit and surprisingly interesting—worth a look.
Reviewer: Karen Bussell