Little Shop of Horrors
Book and lyrics by Howard Ashman, music by Alan Menken
Birmingham REP
(2010)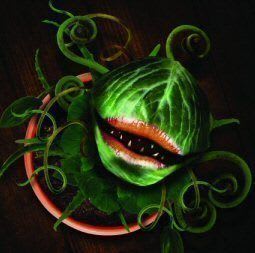 There's only four months to go before the REP moves out of its Centenary Square home so that development on the joint REP/Library of Birmingham project can gather pace. The company's hoping this season will be a memorable one; it certainly gets off to an excellent start with a production of Little Shop of Horrors which is slightly different from what some theatregoers might expect.
Peter Rowe, who's artistic director of the New Wolsey Theatre in Ipswich, was at the helm of Little Shop in East Anglia two years ago and re-employs two actors to reprise their roles of Seymour and Audrey. The pair of them are not the stereotypes usually associated with the musical.
James Haggie initially portrays Seymour as lacking self-confidence because of his difficult upbringing rather than the geeky character Rick Moranis gave us in the '80s movie; he's personable enough for you to believe that Audrey could fall in love with him.
Shirley Darroch is neither a Marilyn Munroe clone nor a dizzy blonde but a blinkered realist whose ambition has been blunted by the realities of living on Skid Row.
If you don't know the story, Little Shop of Horrors tells how Seymour Krelborn saves a florist's shop from financial ruin by putting on display a strange-looking plant. Business takes off and Seymour becomes famous, enabling him to snatch Audrey away from her sadistic dentist boyfriend. The only difficulty for Seymour is that his plant, which he calls Audrey II, is a man-eater and needs human blood to thrive.
Rowe's production is full of hyperbole yet refrains from going over the top - except in Sean Kingsley's portrayal of dentist Orin whose pelvis-gyrating at every opportunity becomes excessive.
Apart from that, and the odd occasion when the vocals aren't loud enough to be heard above the impressive backing band, there's nothing to fault this production.
Harry Myers ages well to play florist shop owner Mushnik as an embittered, inept businessman; Joe Fredericks doubles up well as the gullible shop customer and entertainment big-shot Patrick Martin; Raquel Jones, Tania Mathurin and Emi Wokoma are worldly wise yet slightly cute as the doo-wop girls Chiffon, Crystal and Ronnette; Calvin Cornwall's deep vocal range gives a touch of fright to the voice of Audrey II; and Brian Herring, now working on Little Shop for the tenth time as the puppeteer of Audrey II, plants his own identity on the green monster.
When the actors are not needed on stage, they reappear alongside band members John Banister, Adebayo Bolaji and Anthony Coote to show off their musical talents too.
No production of Little Shop can work without a notable set and designer Mark Walters excels on the REP's revolving stage. The grime and gloom of Skid Row open up to reveal the interior of Mushnik's shop which takes on a new life when customers come to get a look at Audrey II. Orin's dental chair and a mouth-like entrance to his surgery appear as if from a side alley.
Rowe's production has a few neat touches which bring out the humour of Little Shop of Horrors without introducing anything outrageously different. It's a solid, well-performed offering which on the night I attended received well-deserved applause.
"Little Shop of Horrors" runs until September 18th
Reviewer: Steve Orme