Brexodus! The Musical
Book and lyrics by David Shirreff, music by Russell Sarre and Frederick Appleby
The Other Palace (studio)
–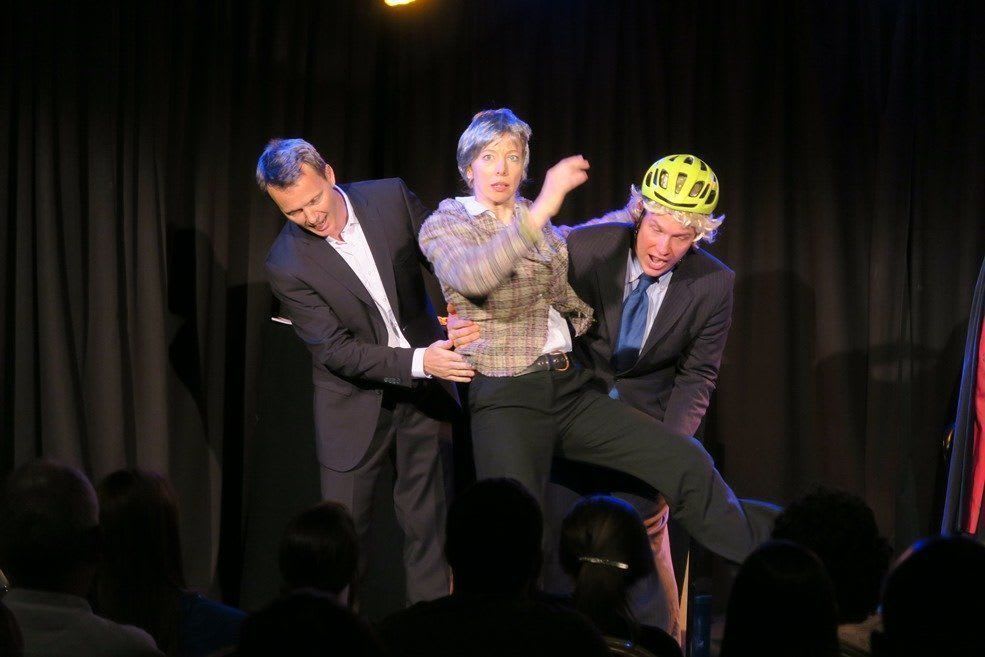 If you missed seeing the funny side to the UK referendum or just long for leading politicians on both sides of the argument to be mocked, then Brexodus! The Musical might be worth a visit. It updates and adds forty minutes to the earlier hour-length show Brexit: The Musical, taking us up to Theresa May's General Election.
Apart from a brief visit to a group of voters in Sunderland, the characters are all recognisable politicians or their more famous supporters such as Theresa May's former advisors Fiona Hill and Nick Timothy.
Every actor plays many parts but the transitions from one to the next work. James Sanderson is particularly effective as Boris Johnson arriving slightly overweight in a mass of blonde hair wearing a cycle helmet. At one point, he also plays a very orange-faced Trump pretending to be Boris in the same helmet.
Airlie Scott gives us a Theresa May that is a wooden version of Thatcher quoting Churchill which Boris interrupts claiming he wrote the words.
Boris is the amusing centre of the show with his jolly Etonion verbal tics and absurd claims. But Paul Croft is a very affectionate meek and mild Jeremy Corbyn, the anti-politician helping his wife to knit, saying of Labour MPs trying to get rid of him, "let them rebel," and if any want to kill him then, "it's healthy to have homicidal feelings."
The show is really a series of light sketches linked to the referendum and drawing on familiar versions of politicians and key events in the campaign.
It has no political or psychological observations that are particularly unusual or surprising. Admittedly I hadn't expected Jean-Claude Juncker to be patting Cameron (Mike Duran) on the bottom, or for Michael Gove (Scott Jones) to appear rather fawning and camp reading a book entitled How to DJ Properly.
The humour is pantomime with Nicola Sturgeon appearing as one of the three witches greeting Boris and Gove in a spoof of Macbeth. Boris is delighted when they greet him as "The Thane of Uxbridge and South Ruislip who will be King hereafter."
The occasional songs are also pantomime or perhaps some music hall style of long ago.
There are no surprises, depth or insight in the show. Neither is there any malice towards either side in the debate, though most of their fun is at the expense of the exiteers.
It is just amiable light entertainment that might pass the time pleasantly for some people. Others might yearn for something more surprising and substantial.
Reviewer: Keith Mckenna