Bridgetower - a Fable of 1807
Music by Julian Joseph, libretto by Mike Phillips
English Touring Opera
Hackney Empire and touring
(2007)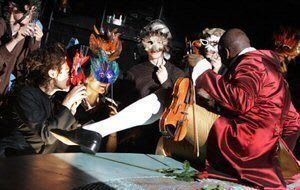 Yesterday I was at the unveiling of a plaque to the nineteenth-century black actor Ira Aldridge, known as the African Roscius, who is now again being given his due as a great Shakespearean after many years of being ignored. Tonight, English Touring Opera were commemorating the life of another black artist, violin virtuoso George Bridgetower, also largely forgotten, but in his time a celebrity in London and at the courts of Europe. Commissioned by and first seen earlier this year at the City of London Festival, this opera fuses jazz and classical styles. It begins with boy prodigy George being brought to London by his father, a black Abyssinian former slave. The Prince Regent forces his father to leave him at Windsor where Mrs Fitzherbert, the Prince's mistress becomes a surrogate mother.
Grown to adulthood we see George at a fashionable party where he seems either to be drunk or being forced into playing the coloured coon the society guests expect. But abolitionist William Wilberforce is also there with escaped slave Mary Prince and George and Mary fall in love, though she accuses him of living in luxury while his fellows are enslaved.
Bridgewater gets leave to visit his Polish mother and in Vienna meets Beethoven who writes a sonata for him - the one now known as the Kreutzer. Meanwhile Mary is recaptured by her former master and despite the announcement of the abolition of the British slave trade the Prince Regent refuses to make any move to save her.
Mrs Fitzherbert has discovered that George's father has become a criminal, now imprisoned at Newgate, and dying. He is briefly reunited with his son. Pining for Mary and unable to concentrate on his music, George gives up his court life and throws in his lot with that of London's ex-slave culture.
The production gives locations and a few lines of libretto are given in text projections but this is an occasion when full surtitles would have been helpful. The Prince Regent is strongly sung by counter-tenor Jonathan Peter Kelly who give him a childish petulance, but the setting makes words largely incomprehensible and, especially in the first act, a chorus, looking uncomfortable in their wigs and one-fits-all costumes, just don't have good enough diction. Buddug Verona James gives feeling to Mrs Fitzherbert and finds a different vocal character for the floridly dressed Lady Holland.
Bass Franz Hepburn, as Bridgewater senior, gave us a well sung caring father in a performance which made one wish one could have seen more of the changed life of this character. He was particularly good in his scenes with his young son, the lad who, he sings, is 'born into freedom - exalted by music.' Chubbily confident Isaac Cobinnah has a good stage presence but his singing was not clearly audible in this big auditorium.
Cleveland Watkiss, the adult George, is a fine singer and could clearly handle lyric numbers as well as scat-like jazz and syncopated numbers but neither voice or projection were strong enough to make the impact that he should, though in duet with Abigaill Kelly's Mary her stronger vocal power did seem to bring more from him. She was delightful: by far the best performance both vocally and as an actor - though without a synopsis I would have been hard pressed to realise that in her first scenes she was telling us about her chains and beatings - and were we supposed to know that she had written the book that she was holding? The real Mary did write one.
The opera is attractively staged in a simple setting (designer Neil Irish) which places the musicians on tiers to one side of the stage and the action on a raised disc, which red and green rolls of carpet or a white cloth can make palace, garden or banqueting table. It is backed by a blue wall with unobtrusive doors, their architecture establishing the period, while one end is jaggedly cut to suggest either a tree or a coastline. With lighting changes this could represent Georgian interiors, clouded skies or a world map to remind one of the triangular trade. The two areas are linked by chandeliers hung over both and by bringing Steve Williams and his saxophone into the action as a character and using composer Julian Joseph, conducting from his keyboard, as Beethoven. One of director Helen Eastman's most successful ideas is the avoidance of any detailed synchronised miming when George plays his violin, instead the composer's Big Band violinist, the splendid Christian , is spotlight as the boy or adult George begins to play and a shadow of the live violinist cast behind them and it was adept of her to at times occupy some members of the chorus with card games rather than something histrionically more challenging.
Though musically the blend of jazz and classical is effective the drama is often carried more in the band than in the vocal line and Mike Phillips' libretto appears to rely on difficult to hear text more than physical stage action. Hackney is a large and demanding space and this production might be more effective in smaller venues. Cameras behind the stalls and a battery of microphones on the edge of the stage appeared to be making a video of this London performance and the work will probably benefit from the close up of video and the ability to manage vocal balance. I hope that it will be made publicly available for this is a work that will gain from further acquaintance.
In the repertoire of ETO's autumn tour, "Bridgewater" can be seen at Truro Hall for Cornwall (7th November), Exeter Corn Exchange (9th November), Malvern Festival Theatre (13th November), Sheffield Lyceum Theatre (17th November), Bexhill De La Warre Pavilion (24th November), Manchester Bridgewater Hall (28th November).
Reviewer: Howard Loxton