Brief Encounter
Noël Coward, Emma Rice
Kneehigh Theatre
Empire Cinema, Haymarket
–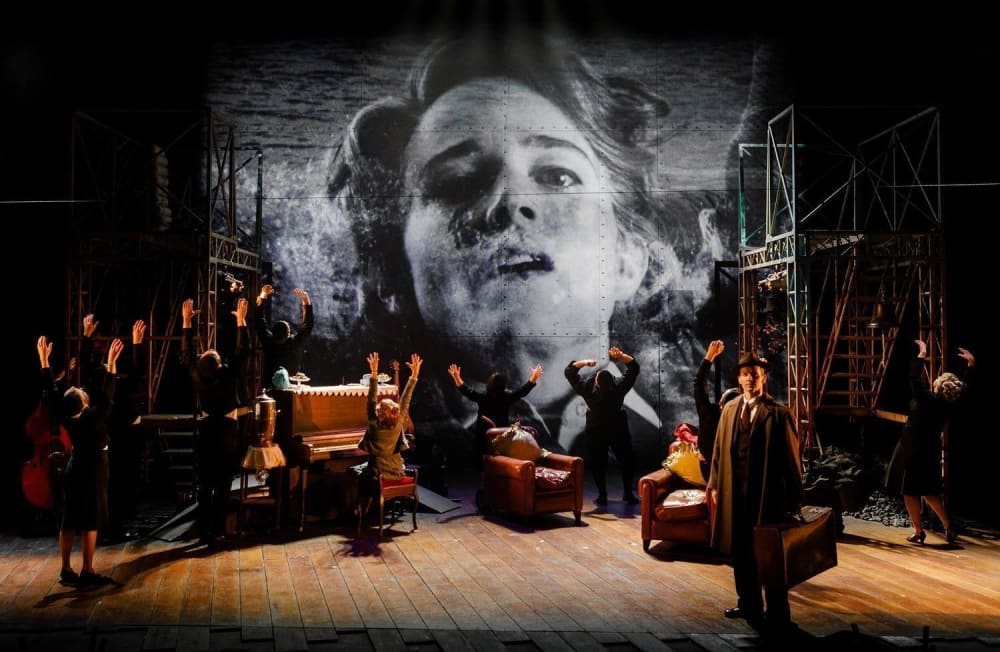 Noël Coward's play Still Life, immortalised by Celia Johnson and Trevor Howard in David Lean's 1945 romantic film Brief Encounter, is back on stage, having received Emma Rice's Kneehigh treatment at the Empire Cinema Haymarket.
A revival of Rice's 2008 adaptation, it has some inventive mixed media, blending immersive theatre, cinema and live performance, and it uses the cinema space to entertaining effect, but it's more spectacle than sentiment.
The film's emotional core was Johnson's voice-over monologue, a never-sent confession about her unconsummated affair to her husband, famously grateful for her "coming back" to him. That is where Rice's version begins, with Isabel Pollen, as Laura, literally stepping into the screen and turning monochrome as she comes back to her family home. Moments like this are the best things about the production, which never reconciles its traditionalist and radical impulses.
The married lovers (Pollen, and Jim Sturgeon as Alec) are well cast, but every time their doomed romance starts to cast a spell, Rice drowns it in peripheral music-hall slapstick that starts to grate. The broad comedy comes from needlessly expanding the roles of the young couple who work at the station, Beryl (Beverly Rudd) and Stanley (Jos Slovick). Rudd is forever skating around the stage or frolicking with Slovick. This is supposed to contrast their sexual freedom with the central couple's repression, but it reduces the emotional impact of Laura and Alec's affair.
Elsewhere, Slovick serenades the lovers with several Coward songs, including a slightly nasal rendition of "Go Slow Johnny". Meanwhile, Lucy Thackeray, playing the "Myrtle" character from the film, bemoans her own unsatisfying love life, in an amusing accent that hops erratically between RP and cockney.
The staging is impressive, a miniature train used to poignant effect, and there are plenty of clever projections, many of which use waves as euphemistic desire. The play has huge potential for radical adaptation of the kind for which Rice was pilloried during her time as artistic director of the Globe. But she could have explored the medium of cinema to even greater effect. There's more than a hint at the start of Woody Allen's Purple Rose of Cairo, in which a hero of the screen steps out into a world of colour, and radically different values. But this production doesn't try to explore the differences between contemporary and pre-war sexual mores.
The central narrative—Alec's removal of the grit in Laura's eye; the slow realisation of love; and the inevitable agonising separation—are all here, but almost as much stage time is wasted on the daft comic relief. The choreographed chaos might be standard for Kneehigh, but it begs the question of why the main story is largely left alone, without parody.
The most enjoyable moments, ironically for a play about the limits of extra-marital temptation, are the most faithful.
Reviewer: Tim Fox