Brief Encounter
Noël Coward, adapted by Emma Rice
New Wolsey Theatre, Wiltshire Creative, Yvonne Arnold Theatre
New Wolsey Theatre
–

Listing details and ticket info...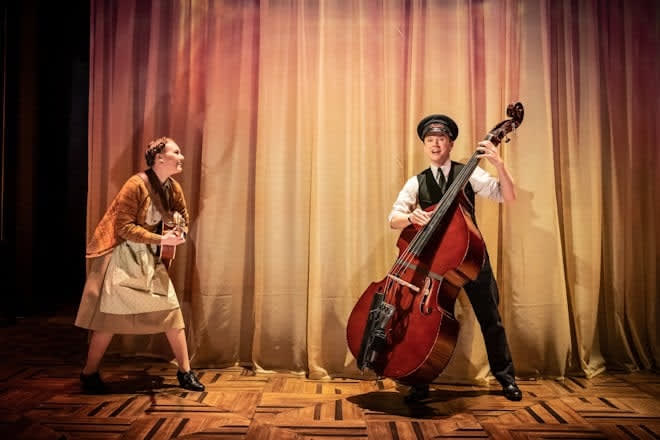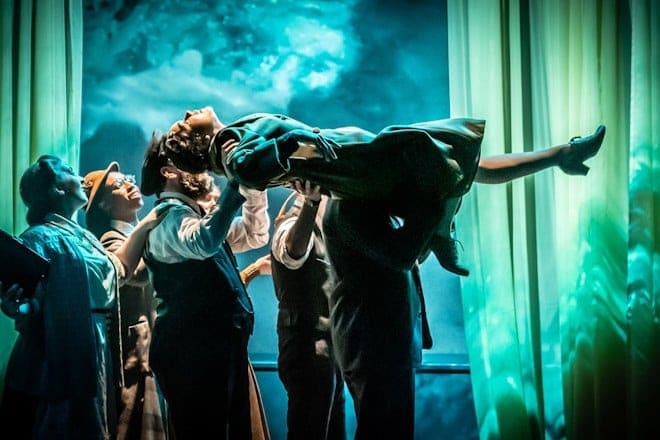 This is New Wolsey Artistic Director Douglas Rintoul's first major production since taking charge of this important regional theatre—and what a delightful, whimsical production it is.
Deriving inspiration from Noël Coward's classic play Still Life and the subsequent famous film Brief Encounter, this is NOT the film on stage but a reworking of it, and it both captures the essence of the original while giving it a new lease of life.
Using Emma Rice's adaptation and with physical theatre and a resident band plus some amazing visual effects and a stunning soundscape, we are taken into the 1930s world of Laura and Alec: two strangers who meet by chance in a railway station buffet and whose lives are subsequently changed for ever.
If you came to see A Streetcar Named Desire last year on the New Wolsey stage, you will recognise the main instrument for scene changes: a huge circular translucent curtain that serves to facilitate changes of set and is used cleverly as a film screen too to project the waves descriptive of Laura's overwhelming emotions as well as the movies she and Alec go to see on their stolen Thursday afternoon trysts.
The set is beautifully designed and morphs fluidly from a very authentic '30s buffet counter out to the station platform and into Laura's sitting room and Alec's borrowed flat.
And while the curtain is drawn between scenes, the band plays delightful period songs, sung mainly by Myrtle, the harridan buffet manager (played suitably stridently by Nicola Bryan), her 'late in life love' stationmaster Albert (Samuel Morgan-Grahame), Luke Thornton as Stanley the 'bus boy' and buffet assistant Beryl (Lucy Elizabeth Thorburn), who is the love of Stanley's life. With Chioma Uma as Dolly and Tom Self as both Fred and Stephen, these make up the chorus of the piece and play all the character roles that flesh out the story as well as the instruments that make up the band.
For the main protagonists, Hanora Kamen plays a perfectly nuanced Laura, recreating Celia Johnson's delicately balanced portrayal of a woman torn between the British buttoned-down manners of the time and her duties as a wife and mother with the sudden passion that unexpected love can bring.
Jammy Kasongo is well matched as Dr Alec Harvey, who finds himself caught up in a love that transcends boundaries of duty and responsibility but knows it is down to him to stop its destructive path.
The first half takes a little while to get into its rhythm—mainly perhaps because the other characters are being introduced and established—but the second half really takes off as we delve more into Alec and Laura's dilemma and fledgling relationship that is too fragile to ever triumph but too deep to brake without damage on both sides.
The only discordant note for me was Laura's children being played for laughs by two hulking adults, but that was a minor point in an otherwise faultless performance.
With humour, strong direction and authentic costumes, this is a treat of an evening that may not take the world by storm but will leave you with feeling you have spent time in the company of some lovely people that have stirred your emotions and left you satisfied.
Reviewer: Suzanne Hawkes