Brief Encounter
Adapted and directed by Emma Rice, based on the original by Noël Coward
Kneehigh Theatre
The Lowry
–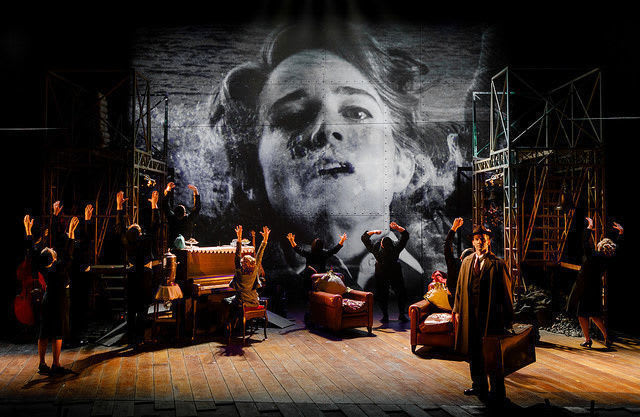 Kneehigh Theatre returns to The Lowry with its distinctive blend of live music, movement and theatrical magic in an innovative production of Brief Encounter adapted and directed by Emma Rice.
Their fresh, inventive take on the classic British film has a cinematic feel that celebrates its origins—it runs for two hours straight through and is bookended with film titles projected on a large screen. Black and white footage playing on this screen is a common feature of this production, and the opening sequence sees a scene between the two main characters begin in the stalls and get shushed by ushers holding torches.
Music, played live onstage and in the foyer before the show starts, is used well and performed brilliantly. Instrumental music—including the famous Piano Concerto No. 2 by Rachmaninov—provides a soundtrack to the scenes, while many of Coward's songs are woven into the story. Young and in love Beryl (Beverly Rudd, whose voice is stunning) sings "Mad About the Boy"; Alec (Jim Sturgeon) performs the most poignant version of "Room with a View" you will ever hear, unaccompanied and alone onstage after Laura has left him.
The main feature of Neil Murray's simple set design is the metal rig that frames the stage, echoing—and sometimes used as—a railway footbridge. Settings are evoked through sparing use of props and old-fashioned effects, such as a rowing boat and bowls of water thrown in the air for the lake scene, but the most striking and surreal moment comes when Laura (Isabel Pollen) and Alec—on a clandestine date in a posh hotel—dangle from two chandeliers as if love has made them float on air.
The secondary love stories between young Stanley (Jos Slovick) and giggly Beryl and railway guard Albert (Dean Nolan) and café manager Myrtle (Lucy Thackeray) are played exclusively for laughs. Some of these come at the expense of the female characters, Carry On-style, but the cast put in strong comic performances. One of the biggest laughs of the night is for the small fluffy dogs on leads that are actually mops being moved and voiced by their owners.
Although comedy is a strong and occasionally overwhelming influence, the driving force of Brief Encounter is the central doomed love story between Laura and Alec. The polite, restrained Englishness of their encounters is underscored with abstract moments that reveal their true feelings: waves sweep across them, other cast members move them around the stage, they undress side by side after the boating accident as if it's a prelude to intimacy.
From the everyday simplicity of their first meeting to the pain of their thwarted last goodbye, Laura and Alec's romance is so moving because it is so realistic, even today.
Reviewer: Georgina Wells