Brief Encounter
Noël Coward, adapted by Emma Rice
Kneehigh Theatre
Birmingham Rep
To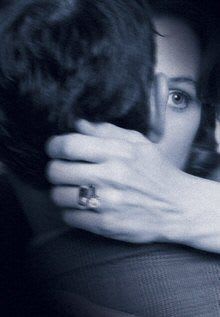 Mention Brief Encounter and most people immediately think of the David Lean film with Celia Johnson and Trevor Howard. The movie was actually adapted from a playlet, Still Life, written by Noel Coward for himself and his leading lady Gertrude Lawrence. Kneehigh's artistic director Emma Rice has re-examined the earlier story to reveal elements that were discarded from the film script.
If you've not come across Kneehigh before, they're touted as one of the country's "most innovative and imaginative" companies. Such is their reputation that the Royal Shakespeare Company entrusted them with Shakespeare's late "problem" play Cymbeline which Kneehigh took to Stratford as part of the Complete Works Festival.
I described Cymbeline as "a fascinating adaptation which won't appeal to everyone" and proclaimed that "the purists will absolutely hate it". Brief Encounter could almost be defined in the same way, although fans of the Lean film might be irritated by parts of Rice's version rather than detesting it.
In Rice's hands Brief Encounter is a clever, gimmicky production that has its fair share of humour. Yet there's passion, tenderness and sensitivity in abundance; if you start to think about Johnson and Howard, it probably doesn't last long because the two main characters are exceptional individually and as a couple.
Naomi Frederick and Tristan Sturrock are the couple whose paths cross in a railway station refreshment bar, with doctor Alec removing grit from Laura's eye and signalling the start of an amorous liaison which in 1938 was infinitely more difficult to undertake than it could ever be today.
Both are married with children, and while we never get to know much about Alec's marital relationship, there's no doubt that Laura's marriage to Fred has lost its spark - if ever it had one in the first place.
Frederick and Sturrock treat us to an affectionate, touching performance which is all the more heart-rending because you know how it will end. Their fervour intensifies at the start of the second half when they get wet as their rowing boat capsizes; it then gathers pace faster than an express train as they head for the inevitable buffers and a return to their unsatisfactory lives.
This version of Brief Encounter takes you back to a 1930s cinema, with actors showing people to their seats while musicians stroll around the auditorium singing songs such as Roll Out The Barrel and Run Rabbit Run.
The film showing is Brief Encounter, with Laura and Alec watching from the front row of the "cinema". On screen Fred pleads with Laura and she gets up, walks through the screen and appears in the film to reassure her husband that she's returned to him. A neat touch.
When the action on stage moves to the station, it focuses on the relationships between two other couples as well as Laura and Alec - couples from a lower social standing who don't have similar complications to the ill-fated central characters.
Beryl (the effervescent Amanda Lawrence) and oafish Stanley (Stuart McLoughlin), whose eagerness to get together is often thwarted by Beryl's having to attend to her sick mother, is in direct contrast to Myrtle (Tamzin Griffin) and Albert (Andy Williams) who take things more slowly and show a little more propriety.
Humorous touches include Beryl's dashing around the buffet bar on a scooter while Stanley's entrances and exits are on a mini-trampoline.
When Alec catches his first train, the stationmaster walks on with a fully-working model. On the next occasion he gets in to a carriage - much more successfully done, with the passengers each holding a window as they walk across the stage.
There are also a couple of vulgar touches, especially in a balloon dance performed by Beryl, which seemed to me to be out of place.
But on the whole this is a magical production with great acting, excellent singing and inventive design by Neil Murray.
David Lean's film is remembered as the archetypal British weepie; Kneehigh's Brief Encounter will be the stage version that every other will have to live up to.
"Brief Encounter" runs until October 20th before moving to West Yorkshire Playhouse from October 24th to November 10th
Cecily Boys reviewed this production at the West Yorkshire Playhouse, Leeds, and Philip Fisher at the Cinema, Haymarket. In 2009 it was reviewed by John Johnson in Northampton.
Reviewer: Steve Orme