Brief Encounter
Noël Coward, adapted for the stage by Emma Rice
Kneehigh Theatre
The Lowry, Salford
(2009)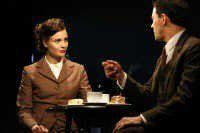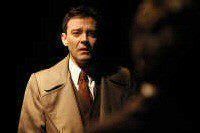 Cornwall's Kneehigh Theatre pays its second visit to Salford this month with its highly-acclaimed adaptation of the well-loved David Lean film Brief Encounter.
Originally a short play by Noël Coward called Still Life, the play was turned into the classic doomed love story of British cinema in 1945 and has been given the Kneehigh treatment by the company's artistic director Emma Rice. Laura and Alec, both happily married to others and each with two children, meet by chance in a railway station café in the 1930s and are instantly attracted to one another. They begin a tentative affair in a very old-fashioned, English, middle-class way, despite trying desperately to fulfil their duties with their families and Alec's with his career as a GP. Of course the affair is doomed, but even their planned final farewell is frustrated and becomes painfully curtailed.
Although some of the concerns may seem quaintly old-fashioned now, this story can still provoke emotion and frustration in a modern audience. Kneehigh's adaptation faithfully brings all of the important elements of the film to the stage and really gets across the dilemma by making the love between Laura and Alec genuinely passionate but still making Laura's husband Fred a loyal and sympathetic character who is obviously devoted to his wife and family. Love is also present on the station in the more earthy affairs of young café assistant Beryl with Stanley and café manager Myrtle with porter Albert.
Of course, being a Kneehigh production, there is plenty of playfulness, knockabout comedy and technical trickery around the fairly naturalistic main plot. The audience is welcomed in by the actors all dressed as old-fashioned cinema ushers and by a band playing in the auditorium. The play begins as a scratchy old film on a screen before exploding into live action, and a couple of times characters actually move between the film and the stage. Projection is also used to great effect to create scenery, to add other visual scenes or to introduce the old cinematic metaphor of waves crashing on a beach for sexual passion in a big way. There is a stunning effect near the end when Laura is feeling suicidal and a train passes right across middle of the stage.
There are songs throughout, which are sometimes done as character monologues and sometimes are performed in front of the main cloth as a music hall turn, all written by Coward but many with new music or arrangements by Stu Barker. The Rachmaninoff Piano Concerto is retained from the film for some of Laura's more passionate solo moments.
Hannah Yelland as Laura gives a perfect portrayal of repressed sexuality and duty, and Milo Twomey is equally perfect as playful, passionate young doctor Alec. Joseph Alessi creates a superb double, giving Albert lots of playful, lascivious humour but making Fred really likeable and concerned, which is a key to making the central decision of the play so difficult for the characters. Beverley Rudd gives a wonderful comic performance as Beryl – and a few other larger-than-life characters – very ably supported by Christopher Price as her attentive lover Stanley. Annette McLaughlin has created a wonderful comic character as Myrtle, the bossy manager with the obviously fake 'posh' accent. The ensemble is completed by Violet Ryder and Jack Beale, plus musicians Adam Pleeth and David Brown, as well as puppets for Laura's children – created by Lyndie Wright – who become perfectly believable in skilled hands as squabbling young siblings.
It is so easy to ruin a well-loved classic by adapting it for another medium, as many have found to their cost, but Kneehigh has retained everything that made the original so compelling and made it wonderfully theatrical. The effects are impressive but they also add a great deal to the telling of the story. The added humour, poetic imagery, grotesque characters and songs are integrated intelligently and with a great deal of sensitivity for the original story to make this a really compelling night of theatre.
To 28th March
John Johnson reviewed this production in Northampton
Reviewer: David Chadderton