Brief Encounter
Written by Noël Coward, adapted for the stage by Emma Rice
A Kneehigh Theatre Production
Royal & Derngate, Northampton, and touring
(2009)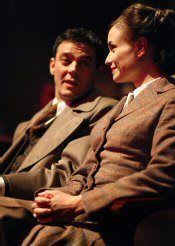 If you have seen the film of Brief Encounter or even the play it is based on (Private Lives) you may or may not be moved by Kneehigh Theatre Company's version. I have a feeling this will have the 'Marmite' affect on those of you who go along to catch a glimpse - you will either love it or hate it.
A stylised, quirky performance that has little touches of surrealism that take the brilliant original script that little step further, Emma Rice has created a playful version of what is without doubt a classic in the first place.
It is the detail that was moving - Kneehigh offer a lesson in timing that any up and coming theatre maker could learn from. The first 'dinner' scene was executed at a slick pace that made the simple use of plates and napkins become something quite magical and dream like.
There is a sense that the thoughts and dreams of the characters come rushing into consciousness as Laura's memory of swimming in the sea as a child comes flooding onto the stage during moments of high emotion. This, for me, worked beautifully.
What definitely worked were the brilliant projections that created sets and scenes, brought the train and its station to the stage and gave a sense of the 1930s. Characters stepped in and out of the projected background images, in keeping with the filmic style of the show.
The cast work with multi-rolling, as well as being multi-functional in playing instruments, moving set and working puppets. They all seemed to really 'buy into' the physical style of the piece, showing a real sense for the ensemble, typified by the choric movement during moments of high drama or romance.
Cowards' lyrics are presented beautifully throughout, with every word being delivered and gesticulated with great aplomb. It was always going to be important that any Noël Coward script or song is delivered effectively, and this production does not let you down.
The scaffold type set works well, being able to incorporate the different sets onto the stage. Neil Murray's design definitely works, yet it does feel as though it has been squeezed into the Royal auditorium - one wonders whether it was designed for a bigger space.
A cheeky, playful piece of theatre - a re-working of a classic - a filmic live performance experience. However you look at it, Brief Encounter 'live on stage' is an exciting and vibrant show that will challenge you to have an opinion, whether you want to or not.
"Brief Encounter" plays at Royal and Derngate until Saturday 28th February 2009
Cecily Boys reviewed this production at the West Yorkshire Playhouse, Leeds, Peter Lathan in Newcastle, Steve Orme in Birmingham and Philip Fisher at the Cinema, Haymarket
Reviewer: John Johnson