Brief Encounter
Adapted by Emma Rice from the words and music of Noël Coward
Kneehigh Theatre
Lyceum Theatre, Sheffield, and touring
(2009)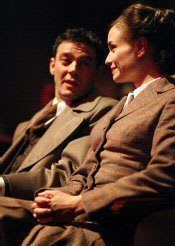 A multi-purpose, multi-function production with railway engines, boats, music, film, dancing, a brandy for ten pence (that's d, not p) a programme that makes for excellent reading, including the brief encounters of all the cast and production crew. At the end, only ten people take their curtain call - what on earth happened to alll the others we saw rushing back and fore, up and down, in and out, on and off the stage?
Emma Rice, director of Kneehigh Theatre and the adaptor of this short Noël Coward story of the 1930s, has produced an evening of unique entertainment. It starts with a small group of musicians in the auditorium singing songs made famous by The Inkspots - if you remember them - and one utters a warning that the show is about life in 1938,and reminds people not to disturb anyone by switching off those little things that go 'ping.'
Somehow, we move into a cinema with the opening certificate authorising the film Brief Encounter, and then we are off on a train journey.
We see the handsome doctor remove a speck of dirt from the young woman's eye, the story develops, with them rowing on the lake, they fall in, get wet, get more and more compromised, but it all must end, with Laura (Hannah Yelland) going back to her steady husband (Joseph Alessi) and two children, while Alec (Milo Twomey) gets himself a job in South Africa, dealing with preventive medicine.
But interspersed with this sad, but moral story is a cast working away at a variety of other roles, having affairs at various age levels (Anette McLauglin & Joseph Alessi; Beverley Rudd and Christpher Price), running a tea bar at the railway station, keeping at bay two demanding soldiers off to war, singing Coward songs, keeping the trains running on time, and ensuring the correct balance between morality and banality.
This is something to be treasured and enjoyed - something from the Good Old Days, just like that farewell kiss between Celia Johnson and Trevor Howard.
Pete Wood reviewed this production at the Everyman, Cheltenham
Reviewer: Philip Seager