Brighton Rock
Graham Green, adapted by Bryony Lavery
Pilot Theatre and York Theatre Royal
Everyman Theatre, Cheltenham
–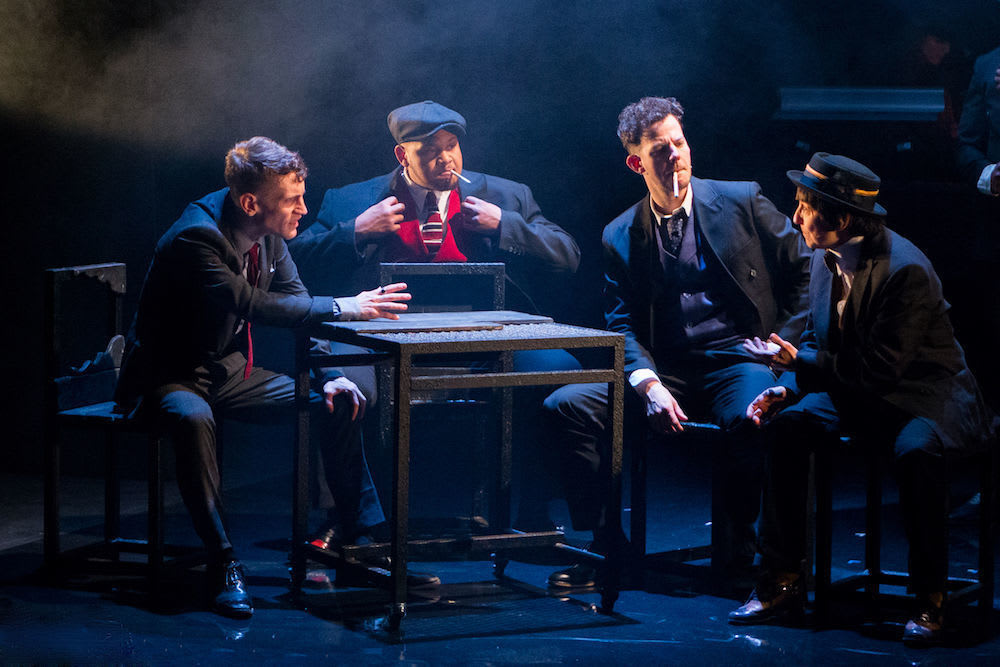 A co-production between Pilot Theatre and York's Theatre Royal is touring Bryony Lavery's stage adaptation of Graham Greene's murder thriller Brighton Rock, directed by Esther Richard. It is nothing but a powerful dramatic production, from the acting to the clever and impressive set designed by Sara Perks and the atmospheric music composed by Hannah Peel.
Set in the late 1930s in, on and around the end of the pier of the south coast town of Brighton, we are transported into a world of protection rackets and minor mob and gang violence. Following the murder of his gang boss Kite, 17-year-old Pinkie takes on the vacancy. Jacob James Beswick gives an outstanding performance as this antisocial personality disordered teenager, who delights in a total disregard for and violation of others with bouts of impulsive and aggressive behaviour. He is merciless to those who get in his way, or upset him, and takes his revenge on Hale, or Fred as also called himself (Marc Graham), for betraying Kite having written an article about his slot machine rackets in the Daily Messenger.
Ida Arnold, superbly played by Gloria Onitiri, is a kind-hearted, resilient but non-religious, morally aware woman, who briefly met the terrified Hale who had been threatened by Pinkie's gang. After she reads about his death, she isn't happy that no-one asked the coroner questions and so turns detective, funded by a tip given to her by Hale for the Brighton Races. At a time when ten bob was a lot, 250 nicker was more than enough to entice one of Pinkie's gang, Cubitt (also played by Marc Graham), to come clean about the spate of killings.
Rose, marvellously played by Sarah Middleton, is a poor, unworldly-wise, sixteen-year-old waitress who becomes Pinkie's girlfriend. She falls in love with him in spite of his advances to her only being driven to keeping her quiet. As his wife, she cannot be made to testify against him in court. But realising marriage may not keep her quiet, he persuades her to join him in a suicide pact, which he has no intention of keeping to. Like Pinkie, Rose is a Catholic but she is a believer in mortal sin, whereas Pinkie sees confession and absolution as his "get out of Hell" card.
The wedding night scene between the young bride and her new husband, who is disgusted by human relationships and the very idea of sex, is novelly handled with the couple on a moving staircase, being whirled around and around by other cast members.
There are one or two unnecessary pieces of choreography including a physical theatre dance routine performed by Jennifer Jackson; and it would have made more sense to use a 78 record rather than a CD for Pinkie's evil recording for Rose.
Many of the cast multi-role with female members taking on male roles: Angela Brain as the elderly gang member Spicer who is getting uncomfortable with the gang's increasing violence; Shamira Turner as Mr Prewitt, Pinkie's lawyer. Chris Jack (Phil) as Ida's companion is also excellent.
The music and percussive drumming and effects move the production through dark and ominous to occasional lighter moments with the opportunity for some lovely vocals by Gloria Onitiri and Jacob James Beswick.
An excellent and very different production, well worth seeing.
Reviewer: Judith Wordsworth