Brighton Rock
Graham Greene, adapted by Bryony Lavery
Pilot Theatre and York Theatre Royal
York Theatre Royal
–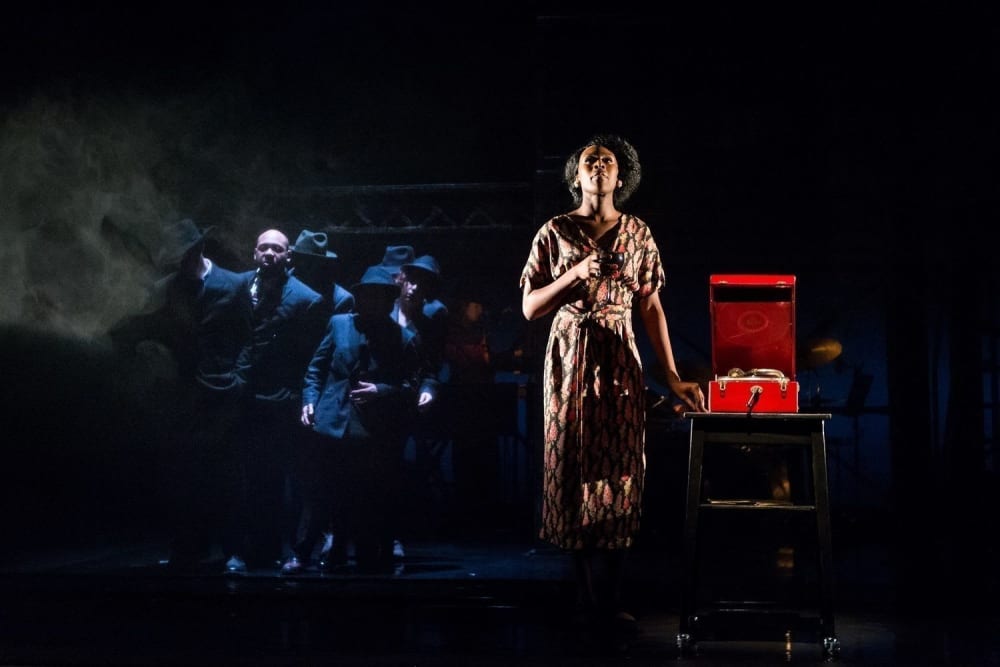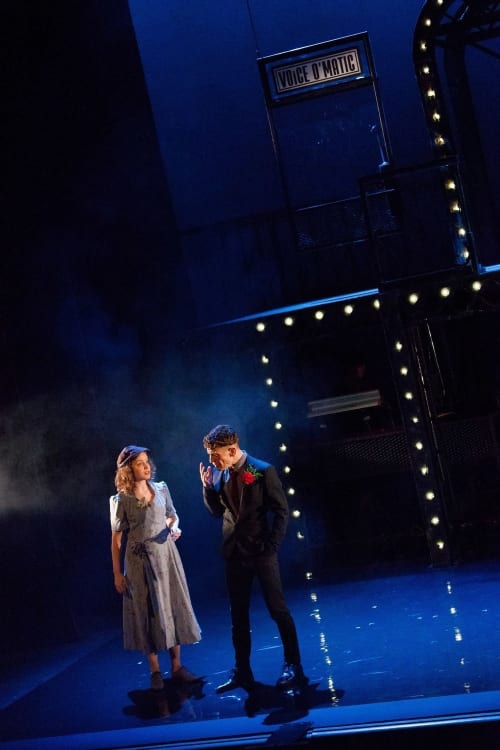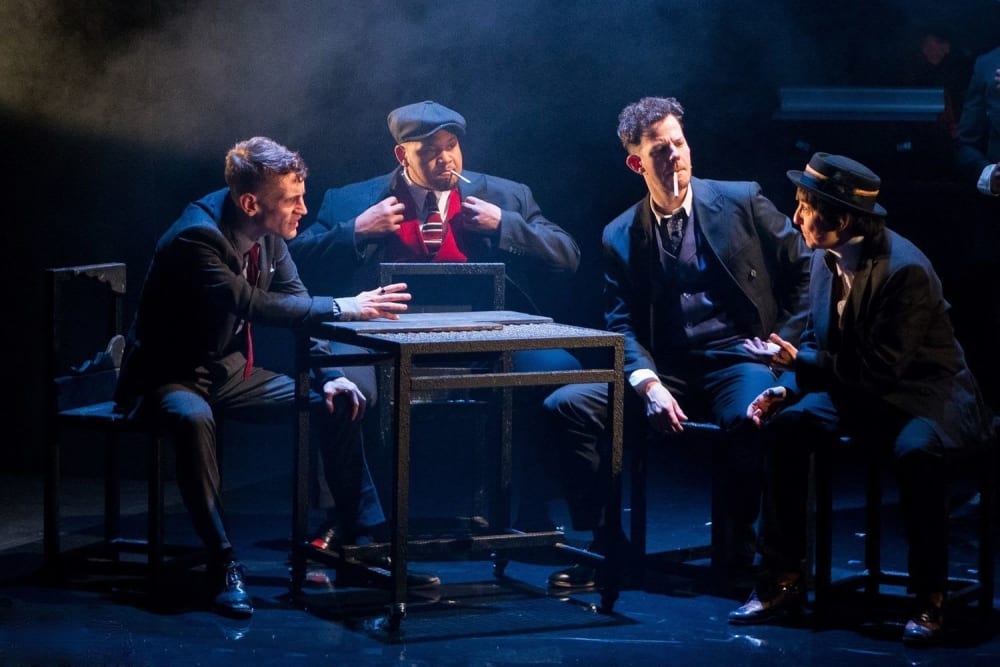 Graham Greene's 1937 novel has been the recipient of several well-received (and some less-lauded) adaptations so far—not least the 1948 film starring a young Richard Attenborough, which is possibly the version known best to most audiences.
Pilot Theatre here propose a new and resolutely theatrical version which nimbly retains the strong atmosphere and page-turning drive of the noir-ish novel without becoming cravenly bound to a period setting nor opting for gimmicky modernity.
Esther Richardson's direction of a powerful ensemble and creative team paints a vivid picture of a seamy, seedy underworld. It's dingy rather than grimy—there's a sheen to the costumes and props which sometimes shimmers like the glint of a knife, never failing to feel dangerous.
Pinkie (Jacob James Beswick) is a 17-year-old gang member who thrusts himself into leadership when the previous boss is murdered. He exacts a painful, fatal revenge on the man he holds responsible for the murder, Charles Hale (also known as Fred). From here, the story spirals as Pinkie attempts to cover the gang's tracks, while resisting rival boss Colleoni's offers of employment.
The juvenile mob leader is a memorable character and one of the key forces behind the novel's longevity. Beswick has created a remarkable physicality for the boy, with a nervy, twitching energy and shrugs and flourishes of the wrist which suggest attempts to bottle a deeper unrest. It is hypnotizingly effective without ever pulling focus or feeling superfluous, and he uses his bitter South London vowels and wiry bantamweight frame to conjure a hard charisma which makes sense of Pinkie's shamanic power in convincing his followers—at least at first.
But this is a strongly ensemble-driven piece overall, and the two other central players are given rich incarnations too. Sarah Middleton plays Rose, the young ingénue waitress who, knowing Pinkie's sin, falls only ever deeper in love. She is brittle, and faithful only to Pinkie—transfixed by the myth he weaves but certainly no fool.
Gloria Onitiri as Ida offers the audience a way into the world: Ida opens the show and embarks upon her unofficial investigation into Pinkie and the gang. Ida is a compassionate adult swayed by superstition rather than sin. She falls for Hale during their brief meeting and sets out to avenge his death, encouraged by a Ouija session, fuelled by a belief in right and wrong, and accompanied by Phil (Chris Jack).
Onitiri completes the charismatic central threesome, with Ida moving ever closer to the truth behind Hale's murder. When eventually she does come face-to-face with Rose and Pinkie, she towers over them, emphasising the different worlds inhabited by the adults and the adolescents, and holding Pinkie's defiant gaze with a steel of her own.
The ensemble shifts dizzyingly between named mob members (Dallow, Spicer, Cubitt), more incidental—but nonetheless well-sketched—roles, and the chorus of "Dark Angels" which emerges from the shadows to swoop on those who get on Pinkie's wrong side, and to effect the production's smooth, cinematic switches from location to location.
Lavery's adaptation comes into scenes at exactly the dramatic moment and leaves them as soon as the point is made. The swift, deft transitions and easy narrative switches make this feel riveting and almost televisual—though the production is certainly richly theatrical.
The writing is punchy, purposeful and to-the-point, doing much to fillet the sometimes baggy repetitions of Greene's novel. Where there are recurring lines or restatements in the dialogue here, it's because these characters do repeat themselves: they take up fixed positions, entrenched in unbudging moralities and standpoints.
Hannah Peel's score, performed live by Peel herself with percussionist James Field, pulses with broody, synth-led atmospherics. It creates a deep, tidal undertow to the production which draws the action onwards irresistibly and dangerously. While not at all of the 1930s, neither is it modern; instead, it is perfectly otherworldly for this squalid but thrilling and alluring world.
Likewise the set design (Sara Perks) and lighting (Aideen Malone) hide surprises, and they similarly support this fast-moving staging, with almost split-screen effects taking place over the two levels of the set. The upper deck serves to evoke both the low-ceilinged digs in which Pinkie and the gang do their plotting, and the wide-open space of Brighton Pier—a cunning feat of design and direction.
The adaptation thus translates key scenes and atmospheres from the novel to memorable stagings. There's a strong sense that Pinkie stands apart from the rest of the world—he doesn't drink, smoke or gamble, and the thought of sex repulses him, at least until the start of his confused relationship with Rose.
As the net starts to tighten around him at Brighton Races, there's a compelling set of images in which he stands aloof, not understanding the petty thrill of the betting stand and thundering hooves, before he merges into the crowd as Ida and Phil emerge victorious and joyous at their winning punt. The nine members of the ensemble seemingly multiply and divide to generate a sense of much more populous worlds.
In a contemporary culture in which Sin and Redemption might carry less weight than they did nearly a century ago, this thrilling adaptation adeptly conveys the eternality of certain acts, decisions or statements through its web of imagery, amplified from the novel.
Characters are marked through like Brighton Rock; acid ("vitriol") can corrode your youthful face; marriage makes Rose 'a scar' which Pinkie fears he'll carry 'til he dies. This tough, gripping production lives similarly long in the memory.
Reviewer: Mark Smith